Coastal Christmas Decorating Guide
Updated November 22, 2022
The countdown to Christmas is on, and of course one of the best parts of the holidays is decorating! If you love coastal style, you might not be drawn to traditional Christmas decor. You may want to infuse more of a coastal feel. To achieve a modern coastal vibe in your home this holiday season, there's no need to go overboard with starfish, sand dollars, and seashells. Rather, to get a unique look that evokes that calm and serene feeling just like being on the coast, you can create a modern coastal Christmas with some of the same strategies that are used for everyday modern coastal style. Some of the same decor elements, including using natural materials and color palettes with blues and neutrals can be used to create a coastal vibe for your Christmas decor that blends effortlessly with other modern classic coastal home decor . Some of the best coastal Christmas decorating ideas incorporate "coastal" elements very subtly. Let's look at some of the best coastal Christmas decor ideas to help you achieve a modern classic coastal look for your home this holiday season.
This post contains affiliate links that can be used at no additional cost to you. Read here for the full disclosure policy.
Incorporate Coastal Colors
It is definitely possible to make your coastal home feel festive for the Christmas season, even if you don't want to use traditional red and green. Coastal inspired decor often infuses colors you find at the shoreline. Neutrals are a great foundation that help to create a light and airy feel. They also can help build a timeless Christmas decor collection that you can add to easily year after year. Typically, with coastal decor, you will also see some variations of blue. Using a blue ribbon or blue ornaments is the perfect way to create a coastal theme that is subtle. You can also incorporate blue hues with greenery by using faux juniper stems. Using the same ribbon or greenery throughout your holiday decor helps to blend areas and create a flow in your home.
Spread Holiday Cheer All Throughout Your Home
Sprinkling in coastal Christmas decor in different spaces in your home can make everything feel festive. You don't have to add much to each area. Focus your coastal Christmas decorating efforts on main living areas, and if you're up for it, you can add in decor within other spaces such as bedrooms and bathrooms if time and budgets allow. Let's look at some coastal Christmas ideas for the main living areas.
Coastal Christmas Tree
Nothing says it's Christmas like a tree with twinkling lights. Whether, you do a real tree or an artificial tree, with the right decorations, you can make it an extension of your coastal holiday decor. For ornaments, simple round ornaments in neutral or blue colors are always an affordable and beautiful addition to any coastal-themed tree. Gold ornaments can also be used to make your tree feel a little more glam for the holidays. You can different sizes to create a great backdrop. Adding some natural elements can really give off a coastal vibe. Some great options include jute, rattan, and pampas. You can also use some DIY ideas such as sea oats or other botanicals inside clear ornaments for a clean coastal look. For pops of color, tie blue bows on the tree. A tree skirt or collar in a natural material like rattan is perfect for a tree in a coastal-style home.
Living Room Decor
With the tree as the centerpiece, the main living area usually takes center stage during the holiday season. The holiday mantle is a Christmas tradition that is almost as important as the Christmas tree itself. Of course, adding realistic garland, stockings and string lights are a few great ways to make the mantle feel festive. Mixing a couple of different types of garlands is a great way to add texture and a unique look. You can also make garland even more interesting by hanging it asymmetrically. Adorning with a blue ribbon, bells and some color-coordinated ornaments is an easy way to help this area coordinate with the other areas in your coastal home.
The coffee table is the perfect place for some holiday decor. One designer trick is to break your coffee table into sections. A few ideas to create a holiday moment on your coffee table are to use:
Books with vintage bells on top
Vase with pine stems
Bowl with ornaments or pine cone bowl filler
Tray with candles and ceramic Christmas trees or white village houses
One other place to incorporate holiday decor is built-ins. Switching out a few of your year-round pieces can easily create a holiday look. These can include artwork layered with items like nutcracker figures with a natural wood finish. These look great on crisp white shelves. To make built-ins feel extra festive, touches of gold with bells and wreaths works well. Bottle brush trees or village houses look so chic stretched across a shelf, especially if the village homes have lights or candles within. This really creates a cozy Christmas feeling.
Dining Room
Christmas is one of those times to light the candles, bring out the nicer linens & china, and make things super special at the dining table. It's so fun to have a big Christmas breakfast with reindeer pancakes or to eat a nice dinner as a family. Throughout the rest of the season, keeping a tablescape simple so that is easy to move for use for more regular occasions. It's fun to glam it up a little, but keeping things neutral with a touch of glitz feels like the perfect formula for a casual yet elegant ambiance.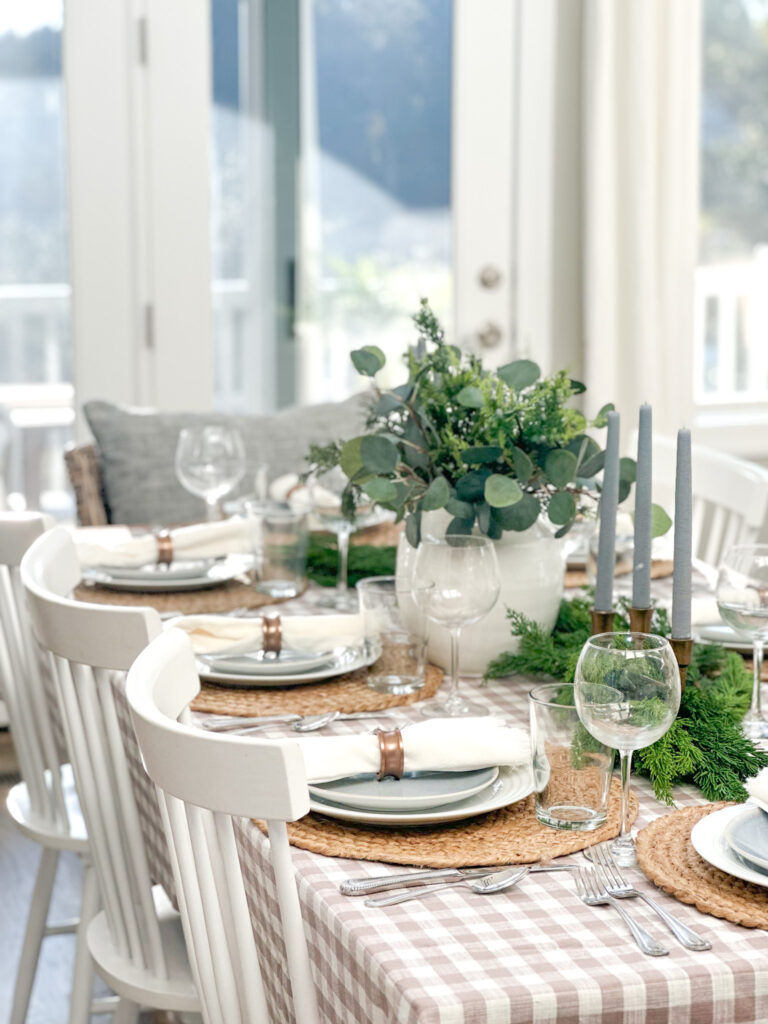 Entryway
Your entryway is the first stop guests will see when entering your home during the holidays. You'll want to set the stage for your home in this area, and here are a few ideas on how to do so!
If you have a mirror in your entryway, start by adding a garland or wreath to it. Next, move down to your entryway table. This is a great spot to use some Christmas figures in addition to your regular decor. Bells and ceramic trees work well here. If you have any bowls on your table, replace existing decor with ornaments or pinecones. Lastly, replace any stems with faux or real pine branches.
Front Porch
Even if decorating outside feels too overwhelming, creating a pretty front porch is an easy way to make the outdoors feel festive, too. Simple touches work well for your front door area. Think garland, wreaths, some evergreens, a festive rug, and of course, lights. Lanterns are another great touch to create a festive and fun entry to your home for the holiday season.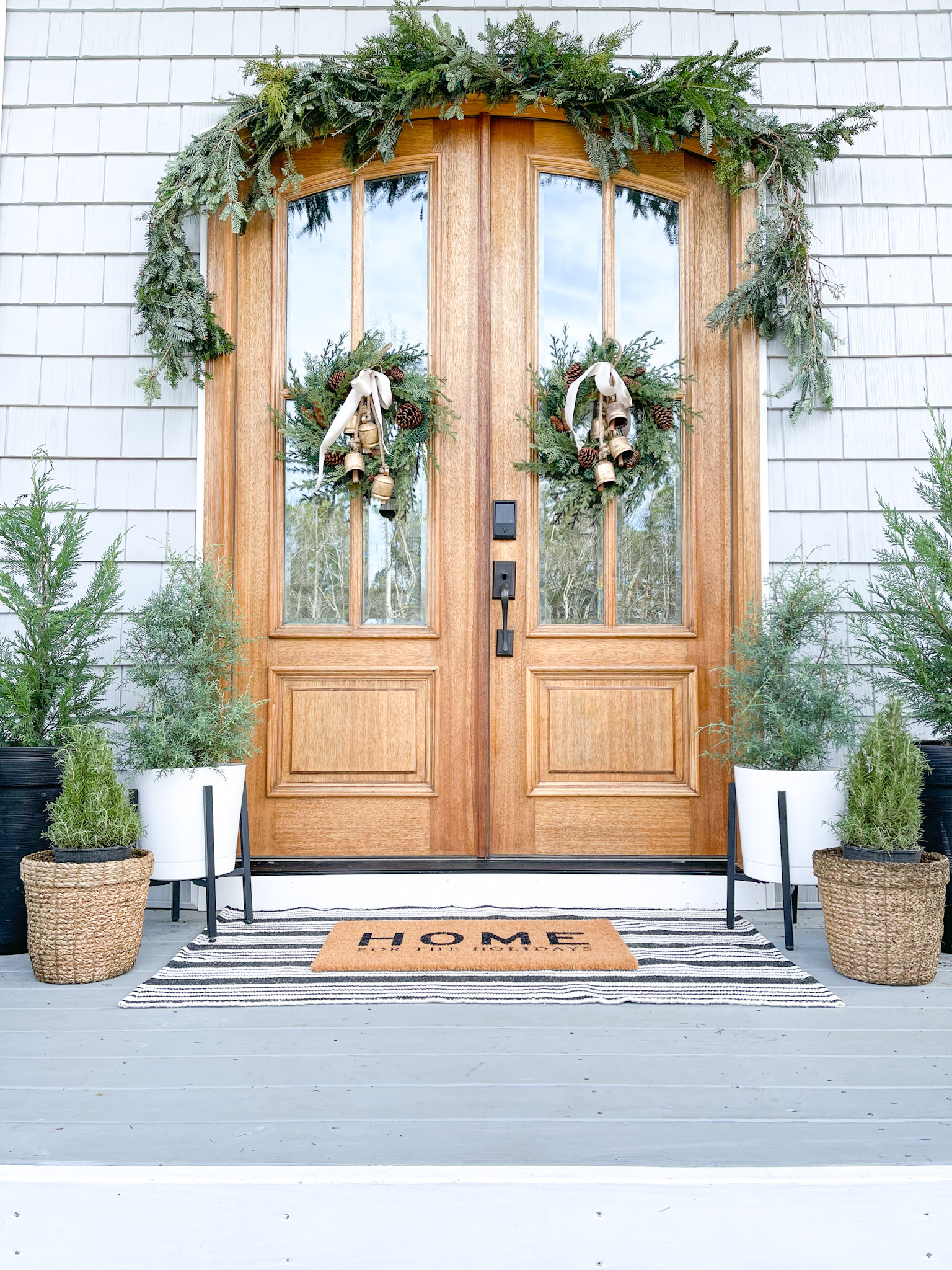 I hope this Coastal Christmas Decorating Guide was the perfect inspiration for you to create some holiday moments in your home. A coastal Christmas theme doesn't need to be overdone to feel warm and welcoming. By keeping a subtle coastal touch, you can create a more modern look for your Christmas decor.
Never miss a thing!
No pressure! you can cancel anytime