Coastal Christmas Decor Guide
The countdown to Christmas is on, and of course one of my favorite parts of the season is decorating! In this post, I am sharing some of the pieces that will create a Christmas scene that coordinates with coastal decor. I love using texture to add interest and to play up the coastal vibe. You can create texture at Christmastime with different pines, a lot of ribbon and touches of glitz. These pieces layer in well with coastal style decor, including rattan, pampas and palm leaves. This combo will create a coastal Christmas wonderland, and I'm anxiously awaiting to put ours together! Let's take a look at the CASS Design Co. Christmas Decor Guide for this year for some different areas that everyone loves to decorate around the home.
This post contains affiliate links which can be used at no additional cost to you. Read here for full disclosure policy.
the mantle
Stockings hung by the mantle is a Christmas tradition that creates the perfect spot for adding some Christmas decor other than your tree in the home. I love adding garland and some Christmas decor to our mantle. Mixing a couple different types of garlands is a great way to add texture to your home during the holidays. You can keep it even more interesting by hanging it asymmetrically. Of course, during this time of year, it's fun to dress it up with some golden bells and twinkling lights. Adorning with ribbon and some color-coordinated ornaments is an easy way to help this area coordinate with the other areas in your home.  I have included some of the decor that would work great for a neutral holiday mantle. This is the inpso I am using for our mantle in our home!

the tree
This is absolutely one of the best parts of decorating for Christmas. I wish it could be up for months as I love the twinkling lights and the aura it brings to the home. To add texture, I love adding stems(pampas grass is my favorite), bead garlands, ribbon and as many lights as I can fit on it. We ALWAYS do a live tree, the tallest on the lot! So, I will be a little later than the rest of the blogger world. Here are some of the elements that I am loving this year for a neutral coastal style Christmas tree.

the table
Christmas is one of those times to light the candles, bring out the nicer linens & china, and make things super special. We usually have a big Christmas breakfast with reindeer pancakes and we eat a nice dinner as a family. It is such a special time. Throughout the rest of the season, I believe in a simple tablescape that is easy to move when we use our table for more regular occasions. It's fun to glam it up a little, but keeping things neutral with a touch of glitz feels like the perfect formula for a casual yet elegant ambiance. Here are some of the pieces I'm loving for the perfect neutral holiday tablescape.

around the home
There are other areas in the home where I like to add a little touch of Christmas. In an open floorplan home, it all feels connected and so adding a little everywhere really keeps the vibe consistent. The kitchen, coffee table, built-ins, and entryway are just a few other areas to think about for adding some Christmas touches. Of course, you can always go all out, too! Here are some of my favorite pieces for making the entire home merry & bright!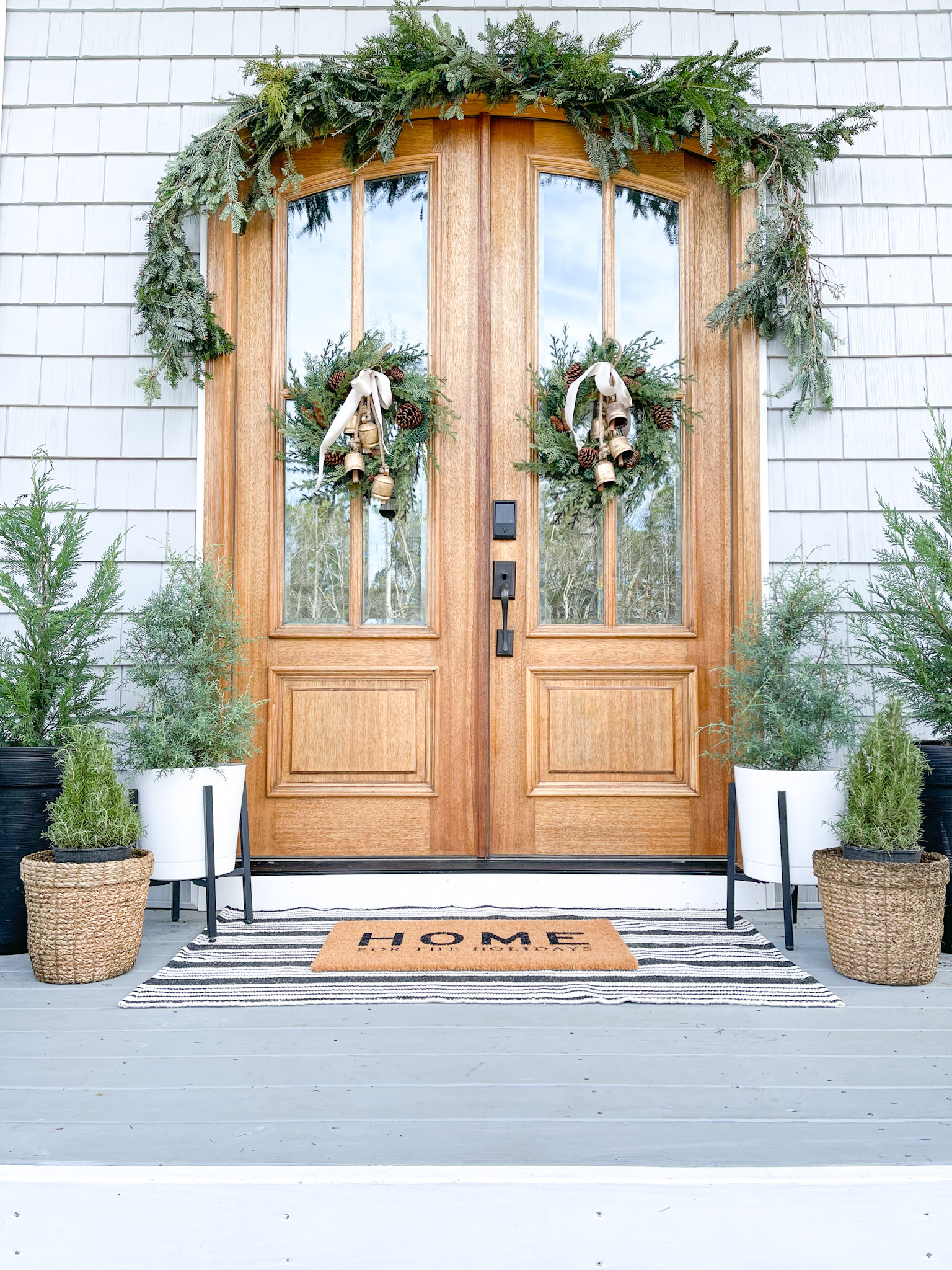 front porch
Even if decorating outside feels too overwhelming, creating a pretty front porch is an easy way to make the outdoors feel festive, too. I usually keep it pretty simple with garland, wreaths, some evergreens, a festive rug, and of course, LIGHTS! This is last years porch and there are some pieces that I am eyeing to take this up a notch. One being some pretty lanterns. They really adds a classic touch. Check out all the pieces I'm loving for a simple, festive front porch.

I hope you enjoyed this Coastal Christmas Decor Guide. I can't wait to see all the pretty things this holiday season. And, of course, doing all the fun things to celebrate the birth of Our Savior.
Never miss a thing!
No pressure! you can cancel anytime