Navy & Gray Coastal Christmas Home Tour
There's nothing better than the way home feels at Christmastime. The twinkling lights, the smell of pine, and the giggles of kids discovering our elf whereabouts everyday. It truly is my favorite time of the year! I really enjoy all the decorating, but I also love when it's complete so we can just enjoy making memories. This year, our Christmas decor went a natural and navy direction, tying into our coastal loving style. I hope you enjoy our Coastal Christmas Home Tour!!
This post contains affiliate links which you can use (at no additional cost to you) to shop some of our Christmas decor. Please see here for full disclosure.
navy & Natural
This year I decided to go with a navy and natural theme. Not that I try and theme it out, but rather, I just try to keep a few simple elements consistent to help it all flow together. This is especially important since our spaces are open and connected to one another. I love the depth the navy adds atop the all the greenery. And I can't believe how easy this was to do with just a couple elements. Really the main pieces to help bring in the navy were some cheap round ornaments, a couple spools of velvet ribbon and some new stockings from the Target Studio McGee line.
These elements help to keep the coastal style decor in our home. By not adding too much, the space keeps its light and airy feel. I think this year is my favorite as it is simple yet cohesive for great flow from room to room. I hope that you can get a feel for how we incorporated a modern feel for our Coastal Christmas Tour!
The Coastal Christmas Tree
Each year we go with a tall, real tree. This year was no exception. I love the shape of the one we found! It's about 13 feet tall, and so you can imagine it took a lot of lights! For ornaments, I kept it pretty simple, with varieties of whites, tans, and natural elements. I also used some cheap navy ones from Hobby Lobby that I spray painted the topper Satin Bronze from Rustoleum. Most of our ornaments are collected from over the years, but I have always used the trick to buy at least 3 or 4 of each variety to help create a cohesive look. As far as new ornaments, I mainly added some rattan discs that are actually coasters. I just tied these up with some seagrass string.
For some other additions to the tree, I just tied up some pretty velvet ribbon in a simple tassel look. My favorite part of our tree this year was the pampas grass I added! It really lent to a coastal vibe and gave it a unique festive look!

The Fireplace
I am loving our mantle decor this year, with some pretty greenery, twinkling lights and some gold touches. Adding the stockings asymmetrically wasn't where I started, but with our huge tree that mostly hid one side of the fireplace, the lopsided placement made sense. Again, I tied a simple navy ribbon for that extra pop. The footed bowls atop our mantle were a diy of some cheap metal bowls that I gave a Rub n Buff treatment for an aged brass look.
My great uncle was an avid hunter and trapper and when he passed last year, my mom gave me some of his hide stretchers. I love to pull these out for our winter decor for that special touch. Keeping our birch logs in the basket still made sense for the holidays, but with some added pine and twinkling lights. And our old metal reindeer gave that perfect amount of black to help ground this space.

Main Living Area
This area only got a little festive, but it's the perfect amount. I was lucky to grab some of the simple hoop wreaths from Magnolia Heart & Hand from Target very early in the season. I love how they frame our living area on our big arched window. This is a great look if you have a trio of different sized windows. For our coffee table, I just added a bowl filled with pinecones, some fresh cedar in a vase (from the yard), and some white ceramic trees and a festive candle in a rattan tray. I love how neutral these pieces look to balance out the navy. This decor can last beyond Christmastime, too.

Dining Area
Again, the theme here was neutral and simple. We use our dining room table a lot. Like, every night. So, it is important for it to not be too fussy. I used some of the garland from the mantle and weaved in the navy ribbon, along with some eucalyptus stems. For everyday, there are three gold candlesticks mixed into the greenery. When we are using this with some family or friends over, we will use some lit taper candles to make the space feel more elegant.
For our buffet, I simply added some sparkly ornaments to a wood bowl, along with some glittery pine cones. I don't have a lot of glitter in our decor, but for our dining room, this was the perfect amount of sparkle to make this are feel a little more dressed up for the occasion. Some other simple wood accessories filled this space out nicely. There may not be quite as many people around our table this year, but I love that it feels festive, even if it's just a few.

Entryway
For our entryway console, I only added a few pine touches with some neutral accessories and our existing decor to make this space feel more festive. Originally, I had some other plans, but they just didn't pan out and I'm totally fine with it this year. Maybe next year we will get to those! For what I did include, my favorite was the addition the pine garland to our round mirror. I simply folded the garland in half, secured it with an elastic hair tie, and used a command hook on the wall to hang it. I added in a cute little black bucket with a white wreath on it that I found at Hobby Lobby.
On our bench, I simply added a pretty natural pillow from the Studio Mcgee line for Target, along with some rustic trees in a couple of vintage churns that I already had. Other than that, I just added in some simple tree clippings and this area feels just the right amount of Christmas with a coastal flair.

Coastal Christmas Front Door
A front door is what sets the tone for a home. So, I was super thankful that I was able to get our doors refinished this fall to be ready for decorating this area now that Christmas is here. We already had the pots for some new plants, so that part was easy. As far as deciding what to put in them, that was a little more tricky, as I know I wanted variety but there aren't as many options for colder weather, even in the south! I ended up going with 2 different evergreens, a Leland Cypress and a Carolina Sapphire Cypress. I love the way one of these is more true green and the other takes on a blue hue to add some great variety. Some little rosemary trees in the shape of a Christmas tree were perfect for our basket planters.
Our wreaths are some simple mixed green with pinecones, and I added on some vintage bells with a neutral satin ribbon. Lastly for the garland, I added some tree clippings with string to an existing small cedar garland to help fill out the space over our door. I love the vibe this gives as you enter our home.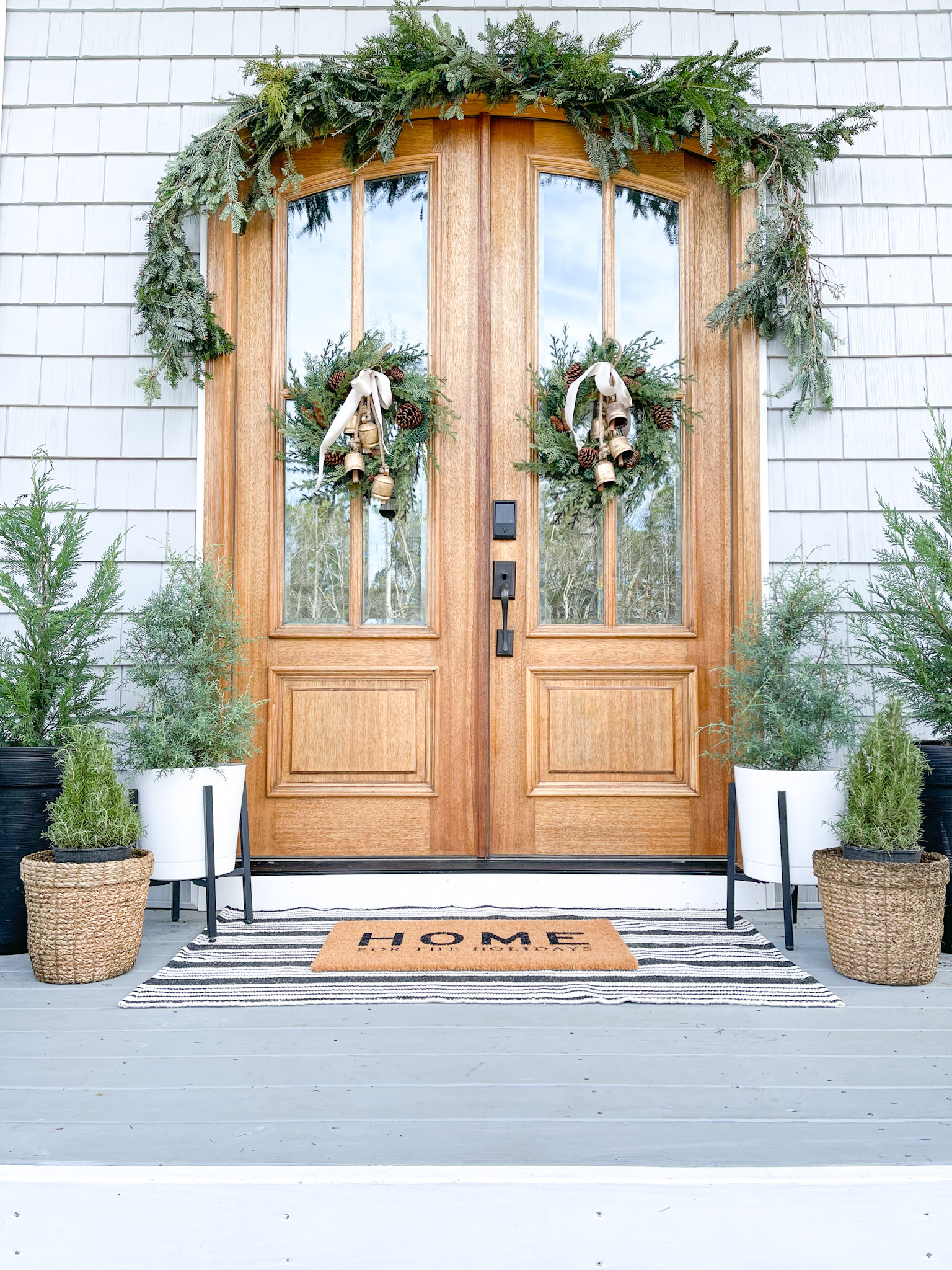 Well, there you have it! My first Coastal Christmas tour of our home! I hope you enjoyed hearing about the details. This year more than ever, it is so important to create a sanctuary to enjoy with your loved ones. Here's wishing you and your loved ones a wonderful Holiday Season filled with many great memories! Thanks for checking out how we are getting ready for this magical holiday!