How to Turn a Small Space into a Home Office
The Need for Home Offices
Homes that are built today usually include a home office. With so many people working from home, at least some of the time, an office space is absolutely needed. But if you live in an older home, home offices are not always existing. A lot of people turn unused dining rooms into offices. Or maybe an extra guest room becomes a home office. But what happens if you don't have a room you can transform? Then, it's time to get creative. Is there a small space that you could fit a small desk, chair and some storage? If so, then you could transform a small space like this into your new home office space.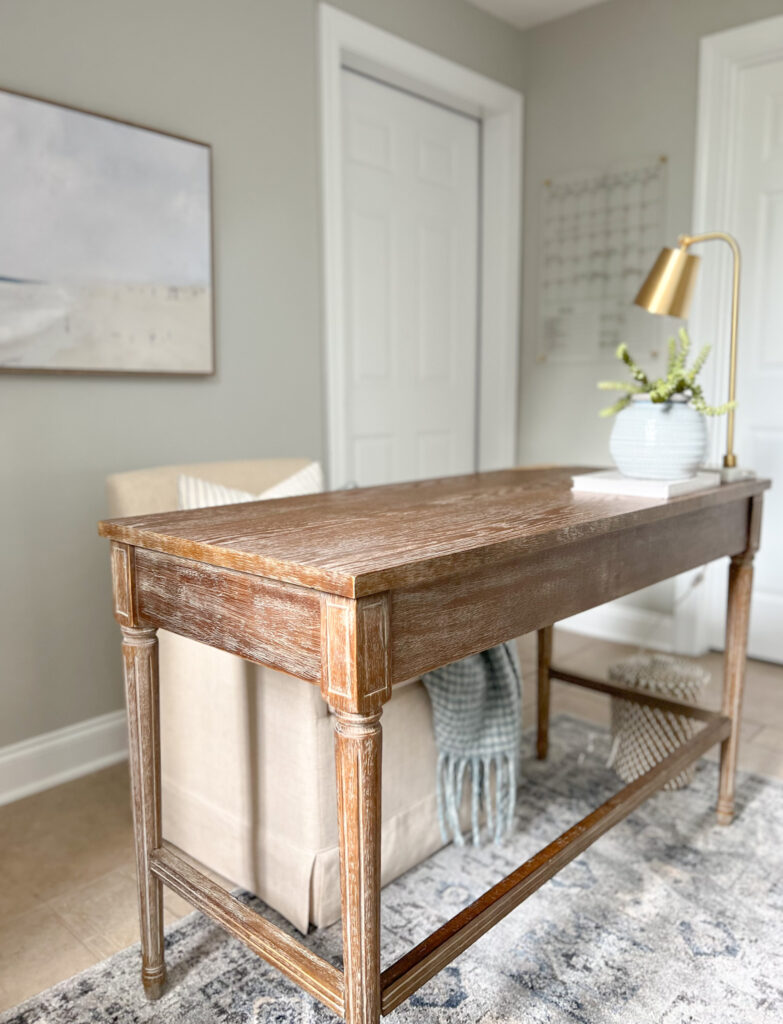 My husband and I began working from home, like so many families, during the pandemic last year. Our home doesn't have an official "office," as it is a little older. Our home has two bedrooms we weren't using. So, last summer I turned one of our guest rooms into an office. Since my husband has calls, etc. and needed the more private space, it made sense for him to get the bedroom turned office space.
I was working at the kitchen counter, but it was time for this to change. I needed a dedicated workspace as there's just too much distraction at the kitchen counter. We really don't have another room we could shift into an office, so we had to get creative. The best spot for me to have a new workspace was an area under the stairs that definitely was not "meant" to be an office. This space gave me enough room for the pieces I needed and offered the best distraction free zone in our home.
Do you have a small space that can become your home office?
Really, any small space can be a good make-shift home office. The only real pieces you need to fit are a desk, chair, and maybe somewhere for storage. So, essentially, where these can fit, it can work. Maybe this is a landing area upstairs or a corner in a closet or bedroom. Another piece to think about is where you have some reprieve from distraction. In our home, our area under our stairs on our first level of our split level home seemed to fit these requirements the best. So, I decided this small space would be where my new home office would live.
Making the space stylish is purely optional, but I find so much more inspiration when my surroundings capture a look that exudes the modern coastal vibe that I love. Honestly, when a space is styled in a way that is pleasing to me, I actually WANT to spend time there. So, for these reasons, I made the decision to not just throw something together quickly, but to think about this space from a design perspective. Then, I went to work on creating the design for this space. And I am excited about where this is headed.
approachable selections to create a modern coastal vibe
For this space, I knew major renovations weren't an option. Meaning, I would have to live with the beige tile for now. In order to achieve the look I was going for without breaking the bank, I began the search for more affordable pieces. By using pieces from Target, World Market, Wayfair, RugsUSA, and Amazon, to name a few, I was able to create a design that felt achievable, modern, and captured just the vibe I was going for. It's traditional, yet modern, and has just a few coastal elements to make it flow with the rest of our home.
I have started making purchases and putting this design together, and I'm already loving the vibe. Make sure and check back soon for an update on this space as it comes together! In the meantime, I have linked these items if you are looking to create a modern coastal small space office, too.
The following links are affiliate links which you can use to purchase at no additional costs. I only recommend products I would purchase myself. You can read my full disclosure here.

If there's a space in your home that you would like for me to put together a design for you, fill out this form & I will be in touch soon!