Best Ideas to Create a Coastal Thanksgiving Table
Thanksgiving time on the coast is a beautiful time of year and with the charm of the fall holidays, it's the perfect time to dress up your Thanksgiving table for gatherings with friends and loved ones.
A coastal style can effortlessly blend with your Thanksgiving dinner setting which allows you to incorporate your home's style into this occasion. Think warm hues, earthy tones, and a neutral color palette to help create a welcoming coastal Thanksgiving table. Enjoy this time creating an inviting and memorable atmosphere while celebrating the time of gratitude.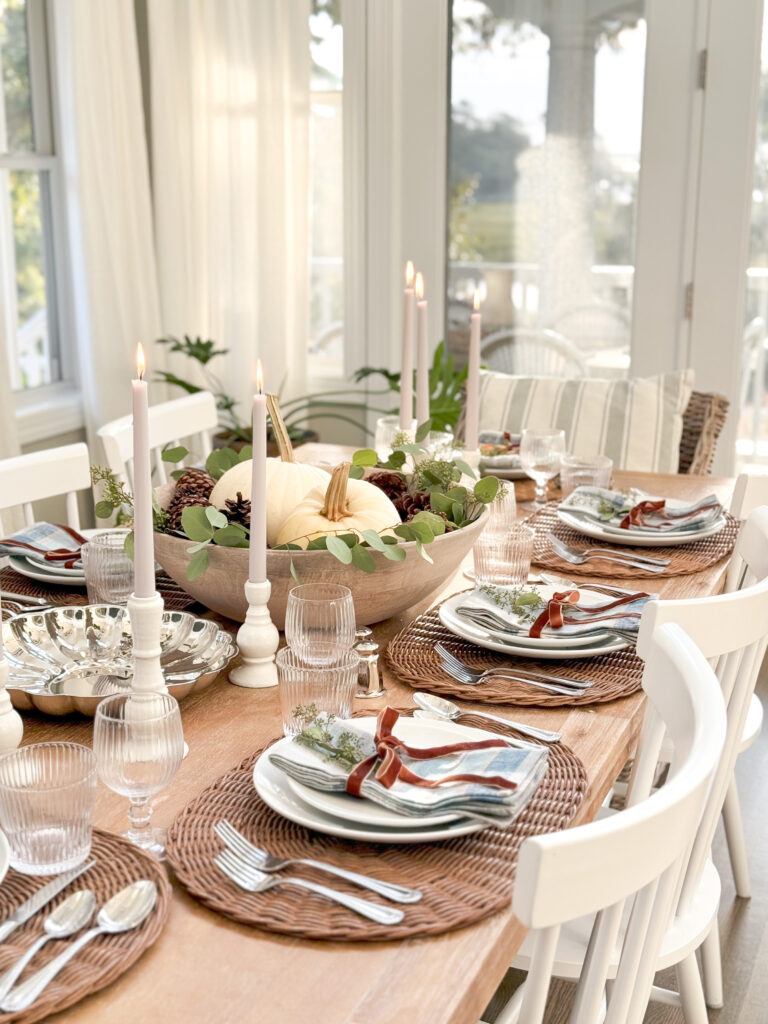 Elements of a Coastal Thanksgiving Table
When creating coastal-inspired Thanksgiving table decor, there are a few elements you can add for a modern and elevated feel. Below are some key elements to consider for a coastal Thanksgiving table setting.
Neutral Color Palette
Introducing a classic coastal palette into your table design will often include soft features and neutral tones which are reminiscent of driftwood and sand. Beige, gray, and taupe are perfect as a base. It is always nice to introduce a more classic coastal color, blue. Utilize blue as a small "pop of color" as it is reminiscent of the sky and the sea. This combination evokes a sense of calm and tranquility which compliments the fall season quite well. Using an all white color scheme also works well keeps the look airy and bright, and can also be a beautiful choice for your Thanksgiving table top.
Natural Elements
Create a focal point by incorporating natural elements, such as jute, rattan or pampas grass. These make beautiful centerpieces or table accents. If looking to add a bit of a rustic touch, utilize woven placemats, natural linens or rattan pieces. All of these casual elements will add texture and depth to your table setting.
Bright White Dishes
Bright white dishes help maintain that light and airy feel to your coastal Thanksgiving table. It creates a clean, crisp, and elegant look while allowing the food to take center stage.
When combining the fusion of the coastal theme and the warmth of a Thanksgiving table, you create an inviting atmosphere while reflecting your personal taste and style.
Create Your Coastal Thanksgiving Table Place Settings
When looking to create the perfect coastal Thanksgiving table, think about blending elegance with the relaxed seaside vibe. Let's explore the basics of creating a coastal-themed table that reflects the coastal beauty.
Begin with a Base
Start off by selecting a pretty neutral tablecloth. This will set the tone for your coastal table. If you are looking to do a more minimalist approach, you are welcome to skip the tablecloth which allows the natural beauty of your table to shine through.
Natural Placemats or Chargers
Use natural placemats like woven jute or seagrass as well as natural chargers like rattan or wood to infuse an organic touch. These elements mimic the textures found along the coast which help create a warm and inviting foundation while adding depth to your gorgeous table setting.
White Dinnerware
When looking for a classic choice, white dinner and salad plates are the way to go. They contain a simplistic and pure look which compliments the coastal theme perfectly.
Selecting Silverware
Both silver and gold silverware compliment the coastal style quite well. Once you've considered the color palette you've chosen for your coastal Thanksgiving table, you can decide if silver or gold work best. If your table has blues and grays, a gold accent provides a lovely contrast while warming up the whole look. However, silver, offers a timeless aesthetic which is a beautiful compliment to coastal blue tones.
Glassware for Coastal Vibes
Choose glassware that resonates with the coastal charm of your table. White, clear, or even blue-hued glassware allows your guests to fully immerse themselves in the coastal setting.
By following these steps, you will create a coastal Thanksgiving tablescape that celebrates gratitude in style while enjoying the warmth of this traditional holiday gathering.
Details to Elevate Your Coastal Thanksgiving Tablescape
The centerpiece serves as the heart of your coastal Thanksgiving table and should contain natural elements. Consider incorporating white pumpkins which contain a serene elegance and eucalyptus (I purchase mine at Trader Joe's) which has a fresh and fragrant scent. If looking to infuse a warm scent, cinnamon is a great choice. Cinnamon-scented pine cones work well as centerpieces too. The centerpiece shown here can easily be created by simply adding eucalyptus to a bowl, layer in a couple white pumpkins and then fill in the space with pinecones. So easy and beautiful!
Add candles to set the mood for your gathering. Play around with tea lights, taper candles, or pillar candles in neutral hues. The flickering of the candlelight evokes a sense of intimacy which helps create that perfect atmosphere for your Thanksgiving celebration.
Select napkins that compliment your coastal theme and can tie your color palette together. Soft blues, neutrals, or natural textures are all great choices. Feel free to infuse some natural elements from your centerpiece such as springs of eucalyptus or small pine cones as napkin accents.
Take that extra step to make your dinner guests feel really special by adding personalized place cards and place card holders. Choose holders that align with your coastal theme such as driftwood pieces or miniature glass terrariums to add a personal touch to the overall coastal aesthetic of your table.
If you want even more ideas, I talk more about some of the best fall decor ideas here.
Create a Special Place to Enjoy Thanksgiving with Friends and Loved Ones
Creating a Coastal Thanksgiving Table sets the stage for a memorable gathering and is a wonderful way to make guests feel special. Keep it simple so that it isn't an overwhelming task. Many preparations (even the centerpieces) can be completed in advance, allowing the hosts to savor the moments of celebration on Thanksgiving Day with cherished guests.
We hope you have a Happy Thanksgiving!
Never miss a thing!
No pressure! you can cancel anytime