Sherwin Williams Stamped Concrete: Pure Gray Color
It can be hard to decide what paint color you love the most when it comes to a room that you'll be looking at for years to come. Neutrals typically tend to be a great option, but once you decide between beige, gray, or white, you're looking into even more variations of each color. Today, I'm sharing a neutral gray color I've totally fallen for – if you're on the search for the gray of your dreams, look no further. Sherwin Williams' Stamped Concrete is the pure gray you won't want to miss!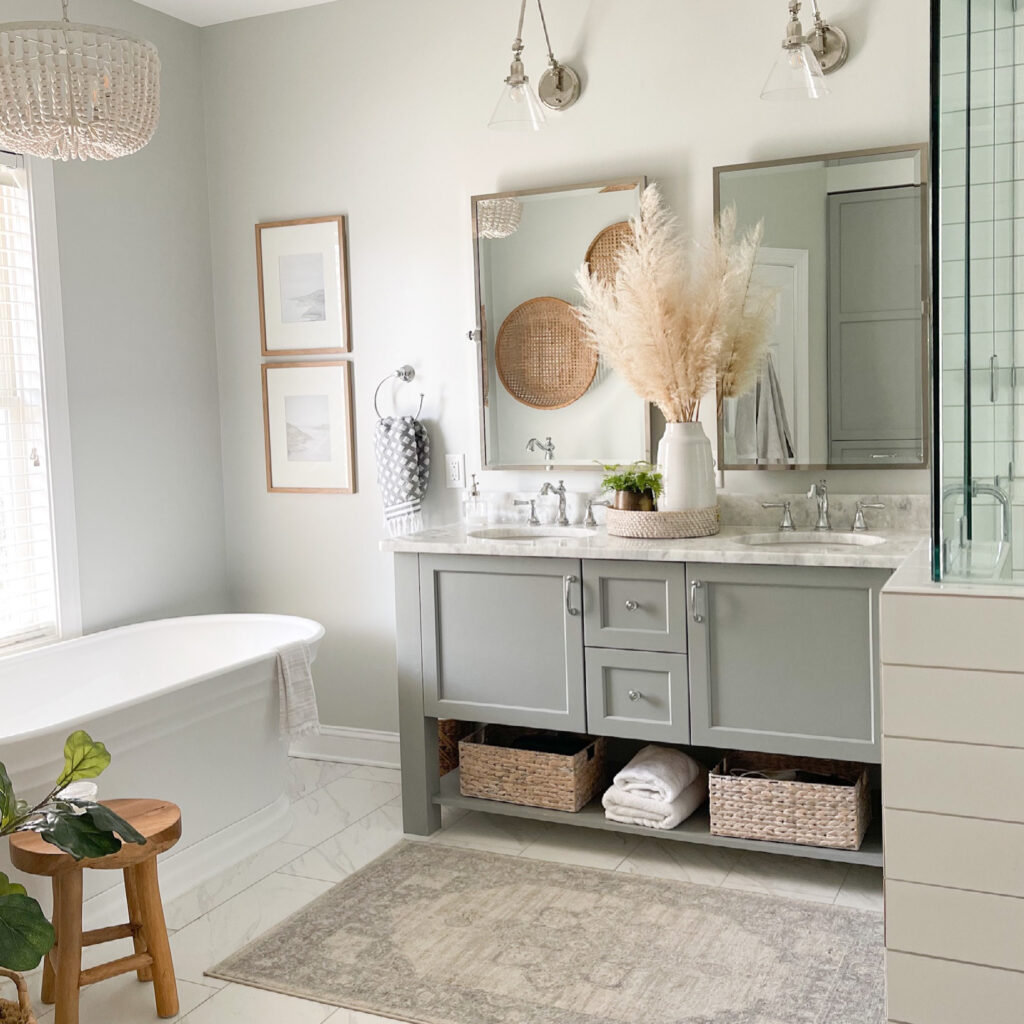 True Neutral Pure Gray
Sherwin Williams' Stamped Concrete is a great neutral, pure gray. It can be tricky to find a gray that looks like a true gray, as so many gray hues will put up undertones of accents that are around it. Stamped Concrete won't read too purple, green, or blue. It has a great balance of white and gray with the perfect amount of brightness and depth.
A Pure Gray that is Great for Cabinets
This color is especially good for cabinets, as shown above. It has a rich hue that works well with lighter walls and pairs well with chrome or brass hardware. It works well in bathrooms, and would also be great on a kitchen island. This color pairs well with white accessories and lighter wood tones. If you have a coastal-style home, this color is great.
Colors that Coordinate with Stamped Concrete
When trying to coordinate other colors with this pure gray, think lighter grays or whites with gray undertones. Two great options are "Silverpointe" or "Snowbound," also both Sherwin Williams color options. In our bathroom pictured above, we paired Silverpointe with Stamped Concrete. These colors are actually on the same paint swatch, indicating that they share similar undertones. This is a great way to pair paint colors, and it works beautifully in the case of Stamped Concrete and Silverpointe.
Don't skip on this color during your next remodeling, building or DIY project! If you choose this pure gray, let me know in the comments below! I'd love to see your before and afters using Sherwin Williams' Stamped Concrete.
Never Miss a Thing!
don't worry you can cancel anytime.