Sherwin Williams Stamped Concrete: Pure Gray Paint Color
When you're looking to paint any room or cabinetry in your home, it can be hard to decide on the color. Paint color isn't something you want to change often, so it pays to get it right. A pure gray paint color is a great option to keep a neutral color palette. With so many different neutral paint options to choose from, it's tough to make sure you have the right one. Sherwin Williams' Stamped Concrete is a pure gray paint color you won't want to miss. Let's check out this neutral gray in more detail.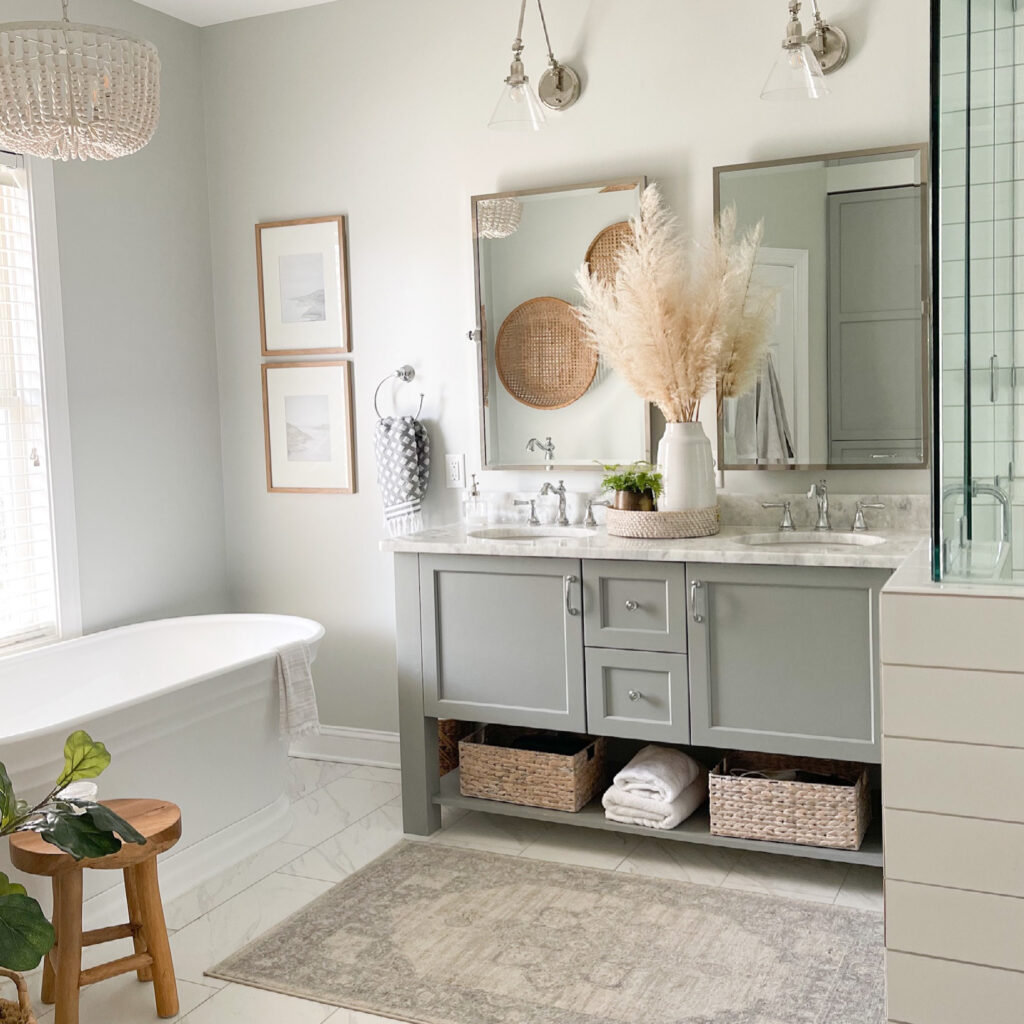 What is a Pure Gray Paint Color?
A pure gray reads mostly true to the gray family, without picking up any undertones. Often gray paints can have green undertones, blue undertones or even a purple undertone. Lighting conditions in a space can have a huge impact on how a paint color will show up, but with a pure gray, you can be more certain that it reads true. The best gray paint colors are often ones that have the right balance of undertones to make them feel like a pure gray.
Stamped Concrete Undertones
Sherwin Williams' Stamped Concrete is a great neutral, pure gray. This color does not have strong undertones. Stamped Concrete won't read too purple, green, or blue. It has a great balance of white and gray with the perfect amount of brightness and depth for a neutral backdrop. It has a light reflective value of 35, meaning it is kind of a medium tone neutral paint color.
Where to use Stamped Concrete Paint Color?
Cabinets
This color is especially good for cabinets. It reads darker and has a rich hue that works well with lighter walls. Stamped Concrete pairs nicely with silver, brass, or even black hardware. It is the perfect gray paint color for cabinets in bathrooms as well as the perfect shade for a kitchen island or laundry room cabinets. This color is a great complement to a marble or quartz counter with grey veining. It's an excellent choice for built-ins in your dining room or living room.
Doors and Trim
Stamped Concrete has a rich feel which makes it a great option if you want to try a contrasting trim and doors look. This effect works well with white or lighter colored walls. You can give this a try in bedrooms or bathrooms, and it happens to be on trend in current design.
Paint Colors that Coordinate with Stamped Concrete
When trying to coordinate other paint colors with this pure gray, think lighter grays or whites. Since this color is fairly neutral, colors with warm or cool undertones can work. Three great options are "Silverpointe", "Snowbound," and "Pure White" which are all Sherwin Williams color options.
Silverpointe
In the bathroom pictured above, Silverpointe is on the walls with Stamped Concrete on the cabinetry. Silverpointe is a pale gray color. Silverpointe and Stamped Concrete are actually on the same paint swatch, indicating that they share similar undertones. This is a great way to pair paint colors, and it works beautifully in the case of Stamped Concrete and Silverpointe.
Snowbound
Snowbound is a wonderful color for white cabinets, walls, or trim. It reads white with some gray undertones. It is a great color that works with a neutral color palette.
Pure White
Since Pure White is one of the most versatile colors, it pairs well with Stamped Concrete and can really make the gray pop.
How to Create Warmth with Gray Paint
Gray tones can feel dated if they are overdone. Some say that gray looks are a thing of the past. But, you can create a timeless look if you like gray, by making smart selections to go with this paint color. Since gray tones can feel somewhat cool, it helps the overall look to add warmth with hardware, lighting and decor. Consider adding elements of brass. Cabinet knobs, mirrors and even lighting in a gold finish pair well with Stamped Concrete and add warmth. Another trick is to combine it with light woods. Raw natural wood touches like stools or picture frames can warm up the cool tones that gray paint can convey. Adding natural and woven materials is another way to warm up a gray space.
Perfect Neutral Pure Gray Paint Color
Don't skip on this perfect neutral paint color during your next remodeling, building or DIY project as it is a great choice for the home. Whether you choose it for cabinetry in your master bathroom, laundry room, or even for refinishing a dresser, Stamped Concrete is a perfect hue! Because it is a true gray paint color with the right amount of depth, it is the perfect color to incorporate into your own home. If you do end up going with Stamped Concrete, share what your thoughts in the comments below! We would love seeing your before and afters using Sherwin Williams' Stamped Concrete.
Never Miss a Thing!
don't worry you can cancel anytime.