How to Create a Timeless Coastal Home
Let's talk about design that won't ever go out of style, also known as timeless or classic style. By combining classic elements with coastal style, you can create a timeless coastal home that will forever feel fresh, or at least easy to update to always seem like it can feel current.
What is timeless style? It is an interior design style that has staying power through decades because it isn't too trendy and always seems to be relevant. A timeless look keeps your home always looking current and can be easily updated with a few accessories to feel like new. Timeless design is often thought of as being simple and sophisticated. Using some specific strategies and tips, you can create a look that is timeless and classic.
Why is it Important to Create a Timeless Look?
When building or remodeling a home, there are always so many decisions. As trends come and go, you don't want to make a decision that you will end up hating in a couple years! Some questions to ask yourself when making selections on finishes:
Is it adaptable?
Is it simple?
Has it been relevant over time?
If it is easy to use a few pieces to update an existing look, then it is adaptable. Simple finishes are always more timeless than ornate or overly rustic. Has this design feature appeared throughout history? One that comes to mind is white subway tile. It's a simple and classic shaped finish that stands the test of time. If you've seen design elements time and time again, rest assured these elements are time tested and more of a classic.
Incorporating Coastal Style
Before you start imagining an overwhelming amount of seashells, nautical decor, and bright colors, let's consider moderation. Moderation is key to successfully implementing modern coastal style. Any time you're designing for a coastal-inspired space, the color palette should be first on the list. A soothing color palette for this aesthetic is similar to being at the shore; think blues, grays, beiges, whites, and greens. Keep it light, and then add natural elements like seagrass, rattan, bamboo, and cane to really start bringing home the coastal theme. Texture is a key component for coastal style homes. This can be found in anything from accessories to larger furniture pieces. For furniture, consider utilizing lighter woods & linen upholstery to help create a bright & airy feel. Pops of bright white trim, cabinets and accessories are ideal to set the stage for a modern coastal home.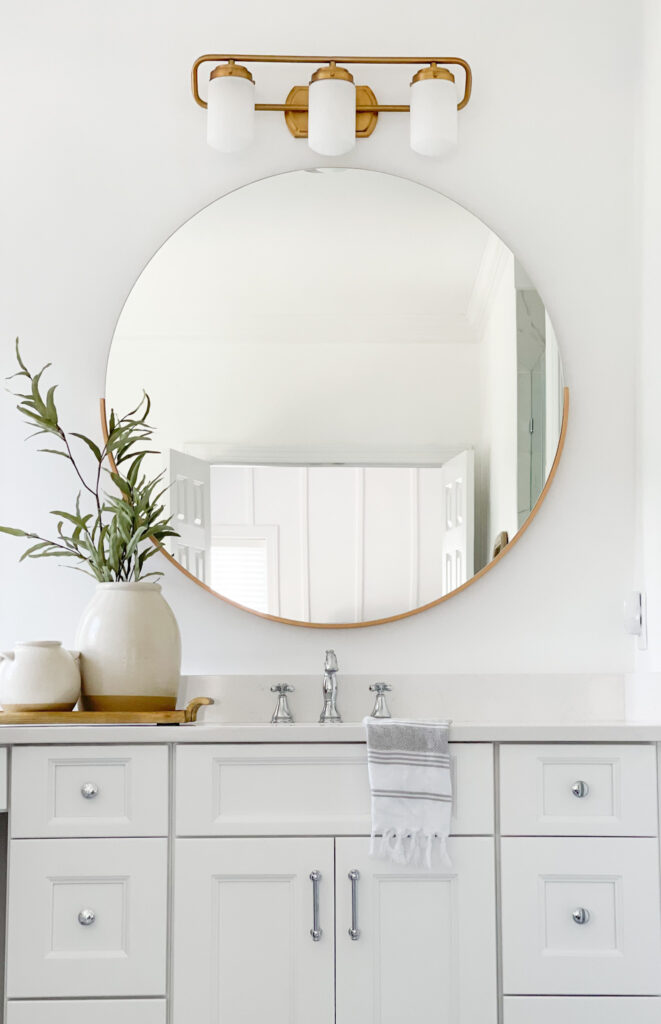 Eight Tips to Create a Timeless Coastal Home
1. Stick to a mostly neutral color palette for paint & finishes.
Think colors like tans, beiges, grays, whites. As mentioned above, these colors are all reminiscent of being on the coast. Staying in the neutral lane vs going bright and bold really helps bring the outside in, and makes for a more timeless look. Trends come and go with paint. Sometimes you will see beiges and tans be more popular, and other times, grays will be everywhere in design, but these colors are always relevant. White trim and tile appear often throughout design history, and it is a safe choice. Bright white feels crisp, and is a good way to reflect coastal style. If you want to go bold, maybe a smaller space like a powder room or laundry room is a good spot to try. But, in general, neutral is the best bet for classic coastal style that also feels modern.
2. Use furniture with clean lines, nothing too ornate.
Furniture with clean lines feels simple. It can reflect a casual feeling, which promotes relaxed gathering. This is the epitome of life at the coast. The look is not only reflective of coastal style, but also a timeless aesthetic. To achieve this, consider pieces like slipcovered sofas, tables that aren't overloaded with detail and accent pieces that are used intentionally versus in abundance.
3. Play with patterns on pillows and rugs instead of upholstery.
Too much pattern can feel busy or overwhelming. While this look certainly has its place in design, sticking to more simple patterns for your main pieces like furniture you sit on, can convey a timeless look. A simple linen sofa will be a much better fit to exude classic coastal style versus a bold print. Adding a vintage rug or a beautiful block print pillow is always a good idea if you would like to introduce some interest in a space. These are items that can be changed more easily and affordable. For larger pieces stick to simple patterns or solid neutral hues.
4. Incorporate classic coastal elements like shiplap, stripes, and pops of blue.
Shiplap may be considered a trend according to some people, but as far as coastal home style goes, it is a classic. Stripes have been used in coastal decor for ages. They were actually used on sailors uniform in the days of Napoleon to spot anyone who had fallen overboard. Stripes are still prominent in coastal style textiles and rugs. The color blue is an immediate association with water, and this calming hue can automatically evoke a coastal style when incorporated in coastal design.
5. Use woven textures subtly.
It is recommended to use decor pieces made from natural materials in coastal design, but going too far will create a more trendy look. Having a few rattan, seagrass or cane pieces like accent tables, pendant lights or storage pieces is a great way to subtly create a coastal look. However, adding all rattan furniture can give a vibe that's too overly matched or outdated. Again, this is where it is best to use these pieces for accents so that they can easily be swapped.
6. Mix metals to add interest as well as not leaning too far in a singular direction.
For example, use brass, black, and even some chrome versus using all brushed nickel or brass. This might be a topic that many will disagree on, but metals are typically one of the more expensive and difficult items to swap. By combining a mix of all metal types, you can elevate a space. While going too much in one direction, over time, that color could become more out of style. Then, you need to replace them all. So using a mix not only adds interest, but it also can help keep a more timeless look.
7. Choose a fabric that is light & airy for curtains and bedding.
Linen is a go-to classic in coastal style. It's a great choice for sofas, chairs, drapes, bedding…basically anything! A light and airy feel in a space can help to convey coastal style, and linen is the perfect fabric for a light and airy look. You don't always have to use the real thing. There are many performance fabrics and replicas that still accomplish the light and airy look and are also functional and affordable.
8. Utilize classic shapes and colors for tile, trim and other hard finishes.
Tile is one of those things that almost instantly can make a home feel dated too soon if not chosen wisely. If creating a timeless look is important to you, consider shapes and colors that have been around for ages. Subway, penny and hexagon shapes in classic white or marble finish have been around for decades, maybe even centuries. If playing with color or pattern is of interest to you, consider spaces like powder rooms or laundry rooms, where the footprint is smaller, and changing it down the road would be easier.
How to Begin to Make Your Home a Timeless Coastal Classic
With these tips, there is no need to plan for an entire home renovation to get the classic coastal look. Start with the less expensive coastal decor pieces like pillows, bed linens, and decor pieces. From here, you can add neutral colors and coastal patterns like stripes. Windows are going to bring in the light to make this look come to life, so consider including linen-type drapes, woven shades, or plantation shutters.
Paint is the absolute best way to create BIG impact! It is also one of the most affordable changes you can make. When painting, consider adding some shiplap or other simple moldings where it makes sense – areas like entryways, fireplaces, or bed/bath accent walls. If you have some rugs in your existing spaces and don't want to update them completely, consider adding a jute piece underneath to bring in more texture. For the complete make-over look, slowly start to swap furniture pieces that feel heavy, ornate, or dark for some lighter wood pieces. Last but not least, think blue anywhere you can squeeze it in- cabinetry, throw pillows, artwork, and decor accent pieces.
For more coastal decor and home inspiration, be sure to subscribe to my newsletter for tips and tricks delivered straight to your inbox. And if you ever need a helping hand, Design Services are available!
Never miss a thing!
No pressure! you can cancel anytime