Seven Ways to Make Your Bathroom a Cozy Retreat
Wanting to transform your bathroom into a cozy retreat? Let's start with the basics. Most bathrooms tend to have a lot of tile, metal plumbing, and hardware which makes them feel cold and uninviting. In many cases, you may have a stark white bathroom. However, there is no need to do a full bathroom remodel. Instead, with a few simple tips, tricks, and tweaks, you can create a cozy bathroom space that feels welcoming, relaxing, and spa-like.
Why is it Helpful to Create a Cozy Bathroom?
Creating a spa-like atmosphere with a more cozy feel is a great way to make your time in your bathroom more relaxing and stress-free. In the morning when getting ready for the day isn't it nice to have a comforting place to get ready and refreshed? Also, after a long day at work, unwinding in a warm bath (especially during the cold weather months) and reading a good book sounds like a dream. Let's make your bathroom more inviting and cozy with these seven tips.
What Makes a Bathroom Cozy?
There are some simple ways to make a bathroom space cozy. The best way to tell if you have an element of coziness is to ask yourself if there's some hints of warmth. Balancing out some of the colder-feeling materials with warmth can make the room feel more calming and cozy. Changing textures, colors, and scents also change the feel of your bathroom to a welcoming and relaxing haven. Let's dive into how to go from a cold bathroom to a warm and welcoming retreat.
Seven Tips That Can Help Transform Your Bathroom Into a Cozy Retreat
When looking to convert your bathroom into something a bit more warm and serene, there are several tips and ideas below that will help transform your bathroom into the cozy retreat you've always wanted. Let's start off with natural light.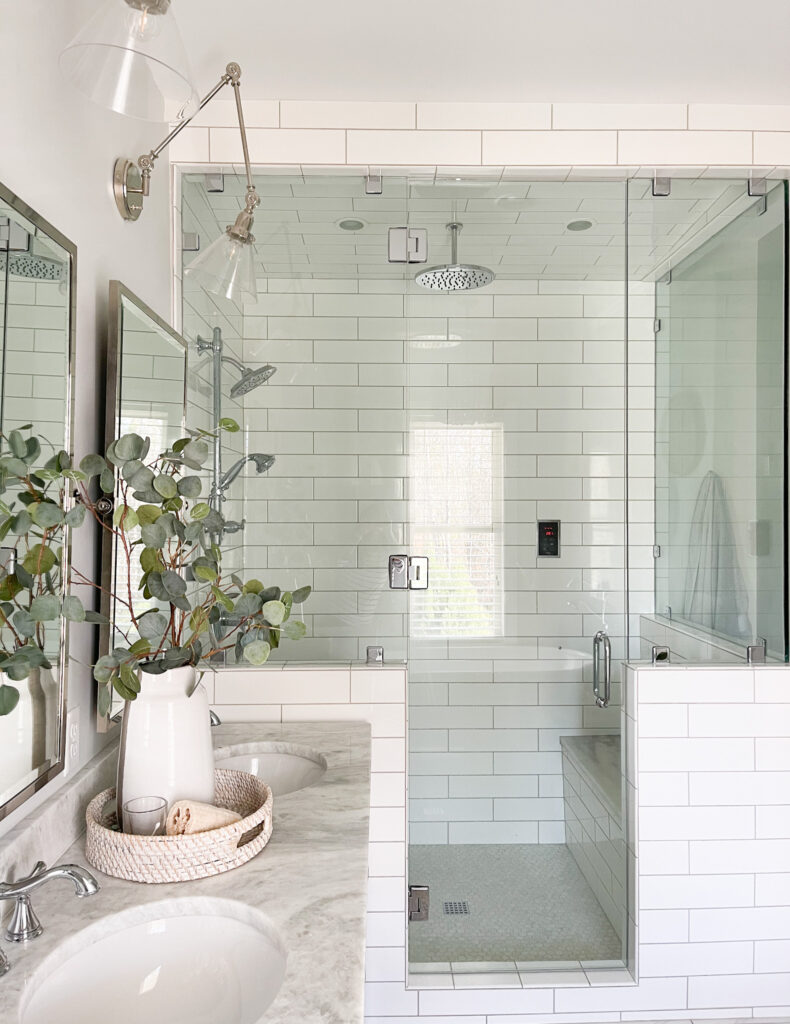 Allow Natural Light In
Lighting is key when creating a cozy-retreat feel in your bathroom, especially natural lighting. If your bathroom has a large window or a few windows, this is perfect all on its own. If you are designing a bathroom, a large window would be a great addition. Another way to take advantage of natural light is to use light-filtering shades or translucent curtains which transform harsh sunlight into a beautiful soft glow. Use natural light to your advantage to warm up a bathroom space.
Layer in Textiles
If looking to transform your bathroom into a spa-like retreat, let's look into towels. You'll want fluffy, long-lasting, and super-soft bath towels. Turkish, bamboo or 100% cotton provides incredible softness and absorbency. Whether you fold, roll or hang these towels from a towel rack, layering in the perfect fluffy towels can make the space feel cozier.
Change up your old bath mats by replacing them with cozy bath mats. Make sure to take into consideration size, design, and comfort. Find one that matches the room's vibe. Another idea is to utilize a decorative rug in the bathroom space. When picking a decorative rug in your bathroom space, pick warm neutral tones to enhance that spa-like feel. Incorporating a decorative rug is one of those small but excellent choices that will make your bathroom look chic and inviting, instantly elevating the space.
Display Bath Salts, Bubble Baths & Soaps in Pretty Dispensers
Display your bath salts, bubble bath, and bar soaps in beautiful glass canisters. Another option is to display your bar soap in a lovely vase. Pretty pump bottles add a cozy touch to your hand soaps, shampoos, conditioner, and body wash. I recommend Etsy and Amazon for these finds!
Incorporate Small Furniture Pieces
Adding small furniture pieces to your bathroom can help give your bathroom that cozy-retreat feel. For example, incorporate a short stool next to a freestanding tub. Place a bouquet of flowers, a handtowel, lotion, and a candle on top of the stool. Placing small end tables in the bathroom can help with storage, anchor artwork, and serve as a holding place for soap dishes.
Use Natural Materials
Utilizing natural materials in your bathroom will give it a more cozy and relaxing feel. Adding storage baskets to your bathroom shelves will not only help solve hose storage issues, but you can make them cozy by adding hand towels or nice-smelling lotions and candles. Incorporate decorative canisters to hold your bar soaps, cotton balls, and Q-tips. Ratan trays give off a warmer hue and a cozy vibe, as well as create a more coastal-style bathroom. Add in beautiful open wood shelves to display rolled towels and oils. The wood and natural tones really add warmth to an otherwise cold space.
Add Greenery
Add some real plants (fake plants work too) to your bathroom. Put some plants on top of a tiny chair or stool. You can also place them your vanity or on shelving. If you have a window that gets natural light, opt for real plants with draining holes. Larger real or faux trees are a great option. You can also add clipped eucalyptus in a decorative planter or vase. This touch helps bring life to the space, and gives an aromatic scent.
Hang Artwork
Artwork is a wonderful way to add visual interest and make your bathroom extra cozy. Add natural or gold frames to the artwork to incorporate elements from a warm color palette. When choosing artwork, think about pieces that evoke calming emotions. For example, muted colors and serene landscapes make the perfect artwork pieces for any cozy bathroom retreat.
Enjoy your Cozy Bathroom
Remember, your bathroom doesn't have to feel cold and stark and there's no need to do a full renovation with new flooring or a bathtub replacement. Instead, with a few tweaks mentioned above, you can create a beautiful and relaxing spa-like oasis that feels warm, cozy, and inviting. If you are still unsure of where to start, CASS Design Co. offers Design services and can help! Here's to creating the cozy bathroom of your dreams.
Never miss a thing!
No pressure! you can cancel anytime