Steam Showers: An Essential Guide
If you're looking for a luxurious spa experience from the comfort of your home, look no further! Today, we're talking all about steam showers. Our steam shower was an investment I'll never stop recommending! I'm sharing the benefits of steam showers, the cost, and some of the most frequently asked questions about them.
What is a steam shower?
A steam shower is a steam room haven that takes place in your already installed shower stall. It requires some different installation steps but is easy to use. By the push of a button, you can generate steam quickly and in a water-conscious way. Coldwater is pulled into a steam generator and then heated to the boiling point to produce the steam. This is great for those wanting to reap the benefits of steam for things like skin and sinuses. The great thing about steam showers is that it's completely possible to turn your shower into a steam shower with just a few quick updates.
How do you make a shower steam-proof?
Some extra steps are required to properly set up an at-home steam shower. Professional installation is recommended to ensure proper techniques for framing, plumbing, etc. Here are some things that a professional will do to ensure proper installation.
Steam shower walls need to be framed and insulated to prevent moisture buildup.
Tiles should be non-porous, like ceramic for best results.
Make sure the tile is sealed well enough that if steam condenses on the walls, you won't have a mold issue later.
Epoxy grout is used to create a layer of protection.
Slope the Ceiling Slightly – This helps water drain as steam collects on the shower ceiling.
Fully Seal the Enclosure – This will prevent any steam from escaping.
Light fixtures should be vapor-proof.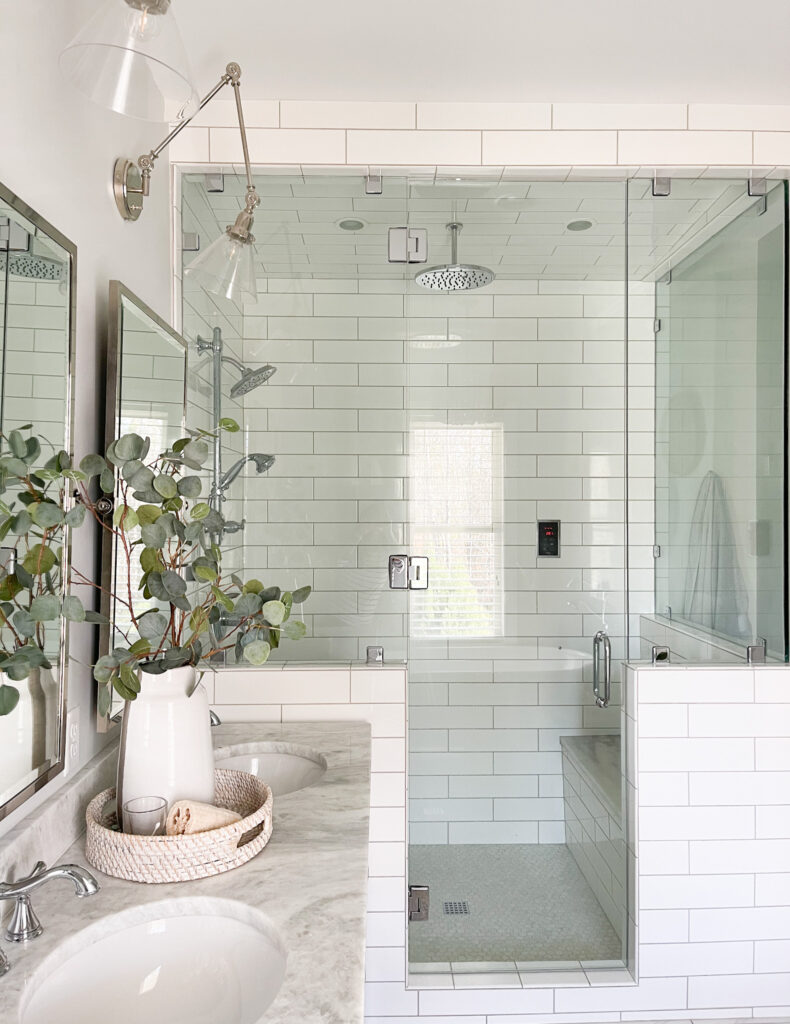 How much does a Steam Shower Cost?
The technical steam generator component of the steam shower should cost you around $2,500. However, there are definitely some other costs to consider like the new stall and door. Labor costs will vary, but be prepared that time and materials will be more than a regular shower. That being said, there are so many benefits to the steam shower, that your investment will definitely prove a return quickly. Your skin and sinuses will thank you! According to Zillow, steam showers also increase the value of your home, so is it worth it…..absolutely!
To see a walk-through of our personal steam shower, here's a video I recently shared. If you have any questions I can answer for you about the steam shower process, comment below.
And if you're looking for a bathroom redesign, I would love to work with you!
Never miss a thing!
No pressure! you can cancel anytime