Best Ideas to Style Your Entryway Console Table
Updated June 1, 2023
One of my favorite things to style and design are entryways. There's just something about curating a cozy and stylish entryway table that leads into your home. Styling an entryway console table is such a fun task because it's the first impression that guests have and it gives them an idea of what to expect throughout the rest of your house. There is no limit to what you can do to design the space! I love having an entry table crafted with styled decor pieces, functional items, and a personal touch to create a beautiful space that establishes the overall feel of the home.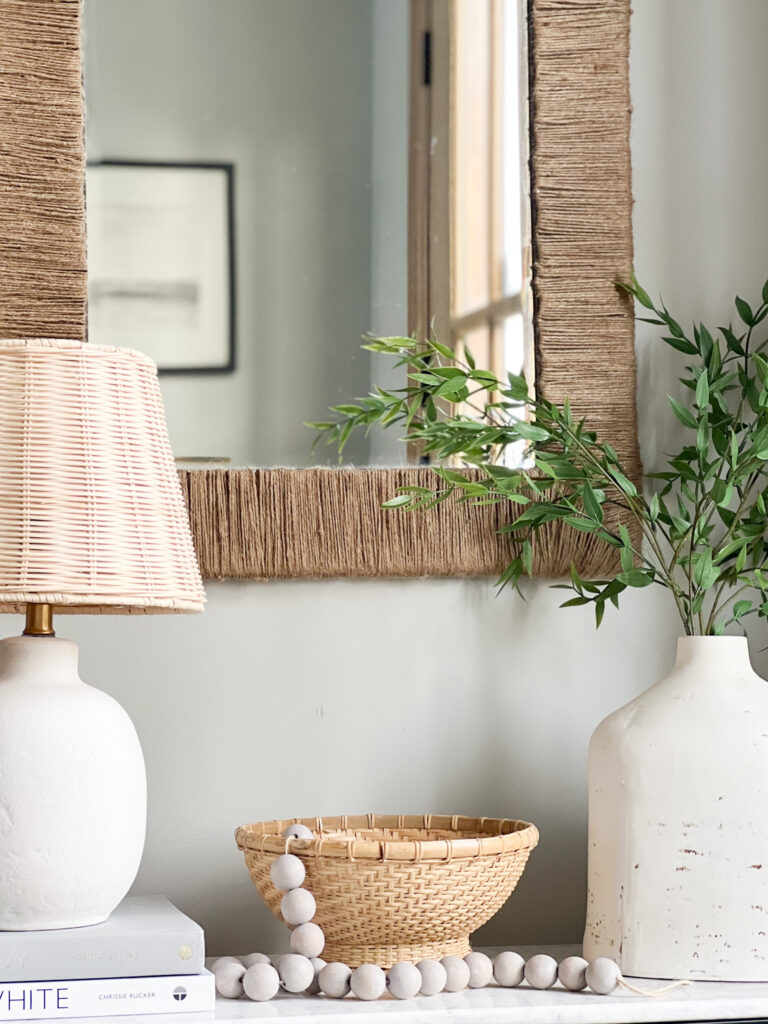 What Are Entry Tables Used For?
Not only are entry tables a statement design piece but they can be used for functional purposes as well. There are just so many ways you can make an entry table both decorative and useful for organization/storage. Also, if you have a small space in your foyer an entry table really has its benefits. They are an optimal place to store items like keys, sunglasses, and mail when you first walk in the front door. Since they are also the first thing you typically see inside your home, it's a great way to create the perfect opportunity to reveal your home's style by adding that visual interest.
Types of Entry Tables
An entry table doesn't necessarily have to be a table. There are several different kinds of entry tables to consider when thinking about which one fits your style the most.
Console Table
An entryway console table is definitely a popular choice. They can be simple or more ornate. Some console table decor ideas include picture frames, decorative vases, and fresh or faux greenery. Just make sure to consider the dimensions of the table as you don't want to overwhelm the space with decor.
Cabinet Piece
Maximize your space by choosing an entry table with a cabinet style. This is a great option that gives you more covered storage for your entryway. Add decorative items like a large mirror or pieces of art for visual interest.
Small Dresser
A dresser is a unique entry table that allows you to organize within drawers, depending on your storage needs. With this type of piece, you can even have additional space for seasonal decor.
A while back, I refinished a dark wood table to use in our entryway. Sometimes, you can find a great piece to refurbish from your local thrift store or garage sale. There are so many styles of tables and cabinets available at many retailers at different price points. Really, the possibilities for this spot in your home are endless.
Five Must-Haves to Style an Entry Table
When decorating large or small entryways, think about the entry table decor process. It can make your space look great and at the same time, help it to function, too! Here are a few staple pieces you don't want to skip.
Mirror – A must-have for sure! A pretty mirror not only reflects light to create a bright feel, but it allows for a quick self-check before you leave. Both decorative and practical.
Decorative Bowl – Great for storing those items you need by the door like sunglasses or keys.
Baskets – Another great option for storing small items.
Covered Storage – Grab a few pretty boxes, baskets, or drawers to house more unsightly items like sunglasses, masks, sunscreen, or bug spray.
Lighting – Lamps offer the perfect ambient lighting – and are the perfect decorative pieces to evoke your home's style. A sconce or candle can help create that extra cozy feel at the entrance of your home. A candle can go a long way in helping to set your home's aesthetic, especially to help capture the feel of the season (from summer to fall & Christmas). A pair of table lamps on each side of the entryway console table brings symmetry and makes the entry table a focal point.
Decorative Books – I love adding a stack of books to elevate the space. Here are some of my favorites!
Vase of Flowers or Greenery – This will add a beautiful color contrast to your entryway.
Wall Art – This adds personality and sets the tone for the home.
It's fun to decorate the entryway for different seasons as well! You can purchase many different decor items on Amazon, Home Goods, World Market, and Target.
Tips for Your Entryway Console Decor to Give it a Designer Look
There are a few tips on where to place your decor items to bring that designer look to life.
Add a mirror as your focal point in the entryway. Grab a quick glance in the mirror before heading into the rest of the home or before walking out the door. Add a leaning piece of art in front of the mirror. This helps fill the space on the table and adds an elevated style.
Create height on the ends of the entry table with pieces like tall or small vases, fresh greenery, or candlesticks. Have horizontal space to fill? Add in some trays, books, or baskets. Another option is personalizing the table with art and photos. Just keep in mind not to overcrowd a small table!
Add Style & Function with the Right Entryway Console Decor
By choosing the right pieces and arranging them to optimize flow and how they fill the area, you can create a place that has a designer look as well as functions to help your day flow in and out your door. 
I would love to see the way you've styled your entry tables! Tag me on Instagram so I can check out your curated space!
Never miss a thing!
No pressure! you can cancel anytime