A Complete Guide For Hanging Curtains in the Coastal Home
Updated: October 7, 2023
Choosing the right window treatments is one of the best ways you can give an elevated look to your home. It's one of those things that a room doesn't quite feel complete without. Curtains can be a great way to add vertical visual interest to your room. Done the right way, they add a softness and sophisticated appeal to your home, without making it feel too stuffy. Especially to create a refined casual coastal home, a breezy linen curtain window look is syonymous with the style. So where do you start? Let's look at some tips and tricks and how to address some common mistakes with hanging curtains.
This post contains affiliate links that can be used at no additional cost to you. Read full disclosure here.
Why Should You Use Curtains?
Window curtains are a great way to create a light and airy look for a coastal home. Properly dressed windows can help to make a room feel complete, no matter the size of the room. Hanging curtains with fabrics like linen over windows is the easiest way to soften the space and make it feel cozier. When chosen properly and hung the correct way, curtains can help give a room balance and texture.
Curtains come at many price points. If you are needing a special size or you have your eye on a specific fabric pattern, you can always opt to choose custom-made window curtains. Otherwise, there are many retail options available both online and in-store. Throughout this complete guide, we will be discussing some of the CASS favorite options in addition to choosing the right hardware and how to hang them properly.
Choosing the Right Curtains
The CASS go-to material for window curtains is definitely a linen fabric. Linen creates a light and airy environment to perfectly achieve a coastal look. Because the fabric is not uniform, it adds more texture naturally.
To keep a more causal feel, a linen look curtain with a straight top is a beautiful touch.
If you are looking for a more formal look, pleated curtains are a great option. A refined look is easy to accomplish with pleats. A few go-to rooms to use pinch pleats in are bathrooms(yes they look great in bathrooms!), formal living rooms, dining rooms, or bedrooms. Pleats don't have to mean a stuffy look, but they can add a layer of sophistication and overall visual appeal.
As always with any coastal decor, light colors tend to work best. A mixture of light tans, blues, and whites will do the trick in completing that look.
How to Determine Curtain Size
In order to determine the size of curtains you should buy, you need to consider a couple of things like how tall your ceilings are and the placement of your windows in relations to your ceilings. Additionally, you will need to consider how much curtain will puddle on the floor.
How Long Should My Curtains Be
In order to determine the length of curtains to buy, you need to look at your ceiling height. One of the CASS rules is to hang curtains as high as possible. The one common mistake with curtains is that they are hung too close to the top of the window frame. Curtains hung higher create height in a room, which is optimal no matter how high your ceilings are. Ideally, hang your curtains around 8-10" above the window frame. They can be higher, though, even if this means they are closer to the ceiling. Just make sure to leave around 2" from the ceiling or crown molding.
Amount to Puddle on the Floor
Your window curtains should graze the floor. A slight "puddle" of 1-2" will create a more relaxed look. Curtains that barely touch will hang a little cleaner and if your personal preference is a clean look, this might be the way to go. Sometimes, this requires hemming to get the perfect length if you are purchasing curtains from a retail vendor versus getting them custom made. Measure to the height of recommended hanging to ensure you order the size you need. The goal is no high-waters! You never want curtains that do not touch the floor.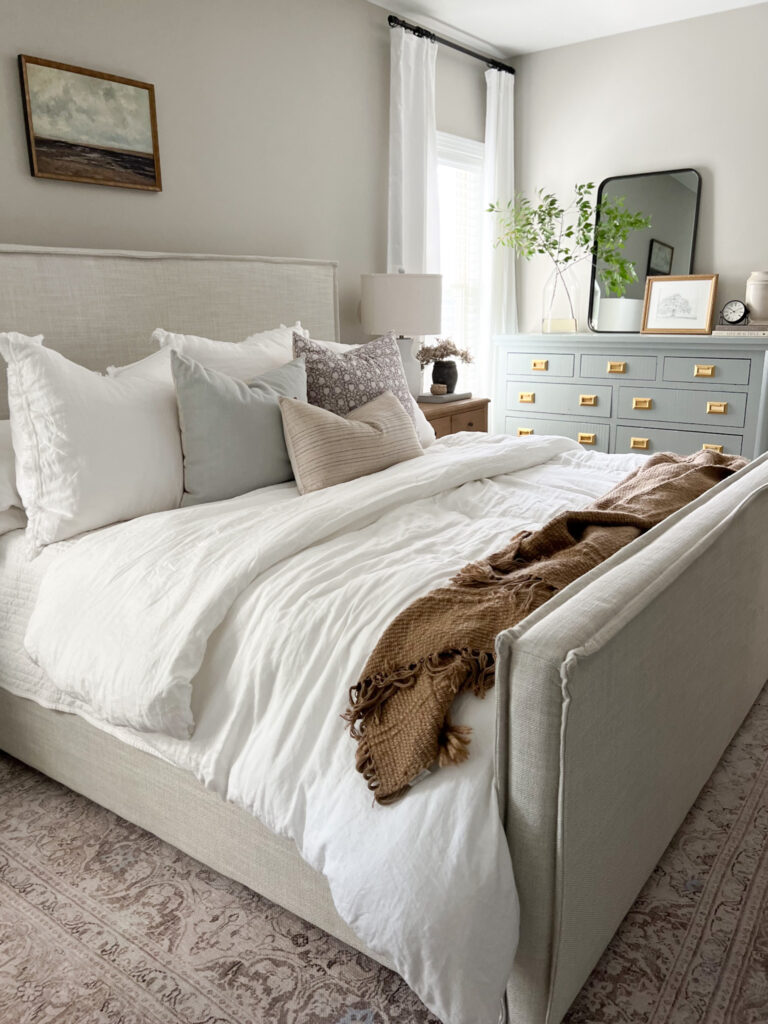 Fullness of the Curtains
If you are wanting to accomplish a more formal look, double the fullness of your curtains. The rule of thumb is 2 – 2.5x the amount of curtain fabric to window size. You should go for more fabric if you are hanging your rod beyond the 6-12″ of the window frame to create the look of a larger window, which is recommended if the end of your rod is somewhat close to a corner. Or you may need more fabric for rooms where you actually are using the curtains for privacy, like a bedroom or bathroom. You could do this in your living or dining room, too, but might not be as necessary. Since you do not typically open or close curtains in these spaces, you can achieve a more relaxed look with less fabric. Again, this is personal preference, and if you like a more formal look, definitely don't be afraid to have wider curtain width to give you this look.
Curtain Rods, Rings, and Hardware
Good hardware for your curtains can make a huge difference in the overall effect your curtains have on your space. This doesn't mean you have to break the bank. Let's look at each of the components and some things to remember about what to purchase and how to hang.
Curtain Rod Sizing & Hanging
When using a curtain rod with your window curtains, there are a few things to keep in mind. First, the curtain rods should extend past the window frame. This allows the most amount of light into a room and maximizes the view. You will need to hang curtains so that they can be pulled completely away from the window to take advantage of that lighting and view.
As mentioned above, when measuring, your rod should extend 6-12″ from the window frame. I promise that this will make your windows feel wider and grander. If you have more space on the sides and are relatively close to the corner, you should extend this even more to reach or almost reach the corner. This helps fill the vertical space nicely and give the room an elevated and more grand appeal.
Curtain Rod Material
Curtain rod color and material can definitely help to pull a room together. Your hardware should complement the style of the room – it's important to keep cohesiveness in mind when choosing your selections.
Use materials that you have in the space already. Black is a great option if you have doors with black knobs and hinges. Black curtain rods can provide an anchor to the space, especially when paired with the right curtain color.
Gold is another great option, especially if you are wanting a lighter and more modern look. Keep in mind that gold curtain rods should complement the other gold pieces in your space, rather than distract from it. For example, if you have an antique gold mirror, gold curtain hardware will complement it best if it is antique gold. Your rings and rod should be the same gold color as well.
Lucite curtain rods are also another great option. I love lucite when going for a more modern look, and they add an element of fun to a space. The same rule applies here. If you have lamps, mirrors, or picture frames with this material, you can pull off lucite curtain rods. Keep it cohesive by repeating the elements.
Drapery Hooks & Rings
Using the proper curtain hardware can help you to create a polished look. Drapery hooks with rings is one of our favorite ways to hang curtains. You can find some of our favorites over in the Amazon shop. When you purchase curtain rods, they most often come with hanging brackets so it's not necessary to purchase those. Rings should be slightly larger than the rod and should definitely be in a coordinating color. You can definitely use the ones with clips but a simple ring design is best for a clean look.
Tricky Hanging Situations
There's always some situations in your home where you might not know exactly how to tackle hanging curtains. Sometimes your windows may be different heights in the same room. Or, you might have a corner area where you just aren't sure how to make curtains work. Let's look at a couple of challenging spots and some ways to work around them.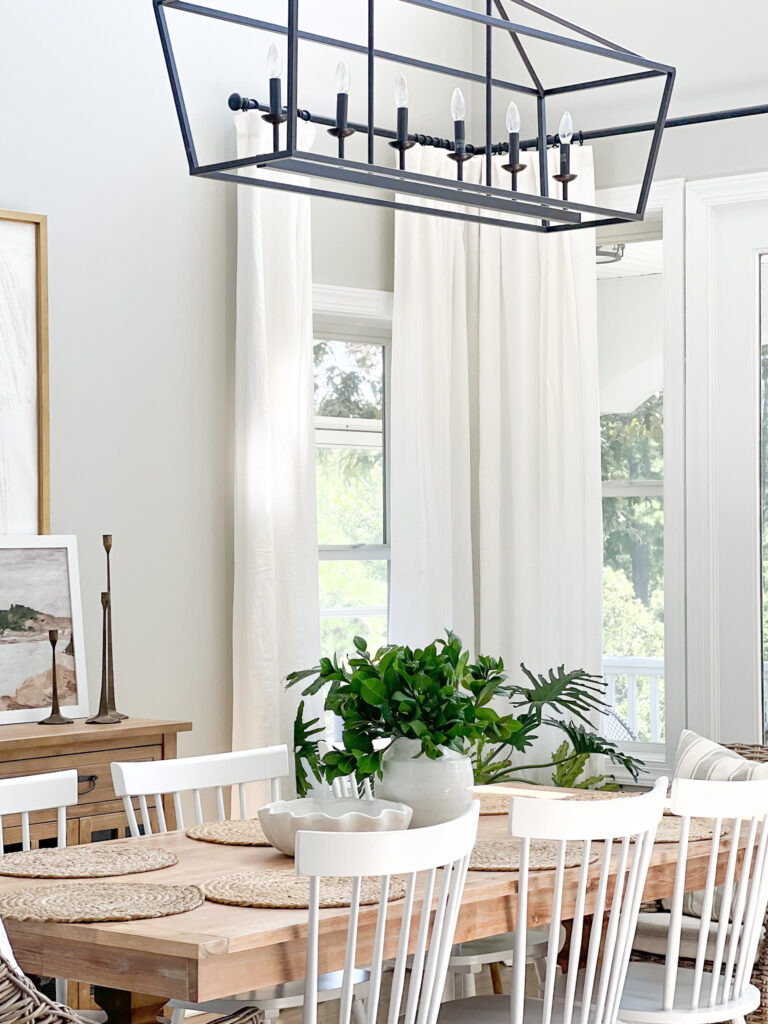 Corners
If your windows are near the corner of a room, you can absolutely work around this setup in a couple of ways. One way to do this is by creating an illusion of one seamless rod. Meaning, you will hang your rods at the same height for each of the windows that create the corner. Then, you can "blend" the curtains with your panels. This simple trick will create a seamless curtain look that will help fill in the corner space and allow you to create a sophisticated look. When using this tactic, it is best to choose a drapery rod that has a small, simple finial (piece that screws onto the end).
Another option is to purchase a connector. These are an affordable option and the best way to ensure your curtains flow with a seamless look in a corner setup.
Different Window Heights
You see this often when there are sliding glass or french doors in a room. The rule of thumb here is to always hang the curtain rods at the same height in that room. Even with differing window heights, aim for the highest and then match the other rods to this one.
When Done Right, Curtains Give Space Elevated Cozy Appeal
Curtains really do add a designer touch to a space. With so many options, you can succeed to get a look that is effortless and chic. They do so much for a space, and when done right, they really elevate the look of your space. With these tips and suggestions, you can be well on your way to styling all the windows in your home.
Never miss a thing!
No pressure! you can cancel anytime