Blue Christmas Tree for a Modern Classic Coastal Style Home
If you have a coastal-style home, a traditional red and green Christmas tree theme may not be the best way to create a cohesive look with the rest of your home decor. A color palette with different shades of blue or neutrals typically evokes a more coastal style. Blue Christmas tree decorations don't have to be over the top to create a fresh look in your home for the holiday season. Subtle touches of blue and coastal texture are all that's needed to create a modern classic look that feels timeless and is a great way to incorporate a coastal touch for your Christmas tree.
Real or Faux Tree
This debate really doesn't have too much to do with the overall look of your tree. It is purely a matter of personal preference. This is due to the fact that so many realistic options have become available in recent years. Some of the most realistic-looking faux trees can be found from retailers like Balsam Hill and King of Christmas. In our home, we have always been a fan of a real tree, but with so many great options, this could change at any time. A real tree always feels classic, and so there's not much guess work if you go that route. For faux trees, there are so many options from traditional shapes, to more sparse looks. Traditional shaped trees like fir and spruce feel classic while the more sparse shapes can lend a more rustic vibe. But, both can be decorated beautifully with a blue color scheme and still capture the holiday spirit of the season. Let's look at some of the pieces to create a beautiful Christmas tree.
Christmas Tree Ornaments
Round Glass Ornaments
There are several different kinds of ornaments that pair nicely with a coastal-style Christmas tree. For a classic look, round ornaments in different sizes and various shades work well. As far as colors go, for a coastal style, blue ornaments are always a good idea, in addition to silver ornaments, white, gold, and mercury glass ornaments. The best blue colors to keep the look more subtle would be navy blue or blue-gray (a dusty blue). Light blue colors can work, too. These hues tend to be more calming versus a bright royal blue option. These colors evoke that breath of fresh air feeling of being on the coast.
You can use a variety of sizes to create a more interesting look. This is also a great way to make your overall tree more affordable. Larger ornaments are usually more expensive. So, pairing them with smaller sizes that are typically more affordable, is a great way to create a high-end look on a budget.
To add depth to your round ornaments, consider tying them to the tree using jute, ribbon, or even raffia. This helps to add more layers of texture without too much effort. Creating different layers of texture adds interest and further evokes a coastal style.
Gold Stars
Adding a variety of shapes adds interest to your tree. Gold stars in various sizes are a great timeless option. They are a classic Christmas shape, but they also pair well with blue color schemes. Seeing stars paired with blue colors gives off nativity vibes. Mixing in this classic shape ornament gives the tree a vintage flair that represents the essence of the season.
Adding Texture
To create balance and interest for your blue Christmas tree decorations, you can add neutral-textured ornaments. Neutral tones are the perfect complementary colors for a blue Christmas theme if you want to create a coastal vibe. The use of natural materials pulls in an organic feel that can elevate a coastal theme, without taking the theme overboard. Options could include clear glass ornaments with botanicals like pampas grass or bunny tails. Raffia is another coastal material that you may consider incorporating. Mixing in these pieces with more traditional round and star-shaped ornaments creates a unique look that feels a little coastal and a little classic. It is really the perfect mix to create that modern classic coastal look.
Blue Ribbon
Blue ribbon is one of the easiest and most affordable ways to create cohesion on a blue Christmas tree. You can use it on its own, in small bows, or you can use them to tie up the ornaments themselves. Another fun way to incorporate blue ribbons is to tie dried orange slices to it. Using the same blue ribbon throughout your living room (or whatever room your tree might be in) can help to add cohesiveness if you have other blue decorations in your home. You can use it on wreaths, bells, stockings, etc. This is one of the best ways to tie your blue Christmas tree decor to your everyday decor and other Christmas decor throughout your home.
The shade of blue you choose for your ribbon is really up to you, but just like with the ornaments, choosing a dusty (grayish) blue is a great choice for a calm and serene feeling. Purchasing a new spool of ribbon to use each year is affordable and incorporating it doesn't require too much effort. But, it will have a big impact!
A Coastal Tree Collar
A tree collar is hands-down one of the best ways to conceal the bottom of a tree. Choose a neutral option in either a rattan or seagrass texture. You can use a round or square-style option to complete your coastal tree collar. There are many options in various shapes to create a unique look.
Another option for a tree skirt, would be to use a neutral color like cream or beige in a linen, fur or even burlap texture. As long as it is neutral in color, and isn't overly patterned, this is a good option for your blue Christmas tree.
The Blue Christmas Tree Topper
The very last step in creating your Christmas tree look is adding your tree topper. A great choice for a modern-classic look is a lighted star. Using a Capiz look can bring that coastal feel, and using a vintage shape can help bring a timeless appeal. Using a star-shaped
Another option for a tree topper could be a loopy velvet blue bow with a few sprigs of baby's breath added to it. The blue and neutral color looks great together. This look feels more like a Christmas tree you might find in a shop.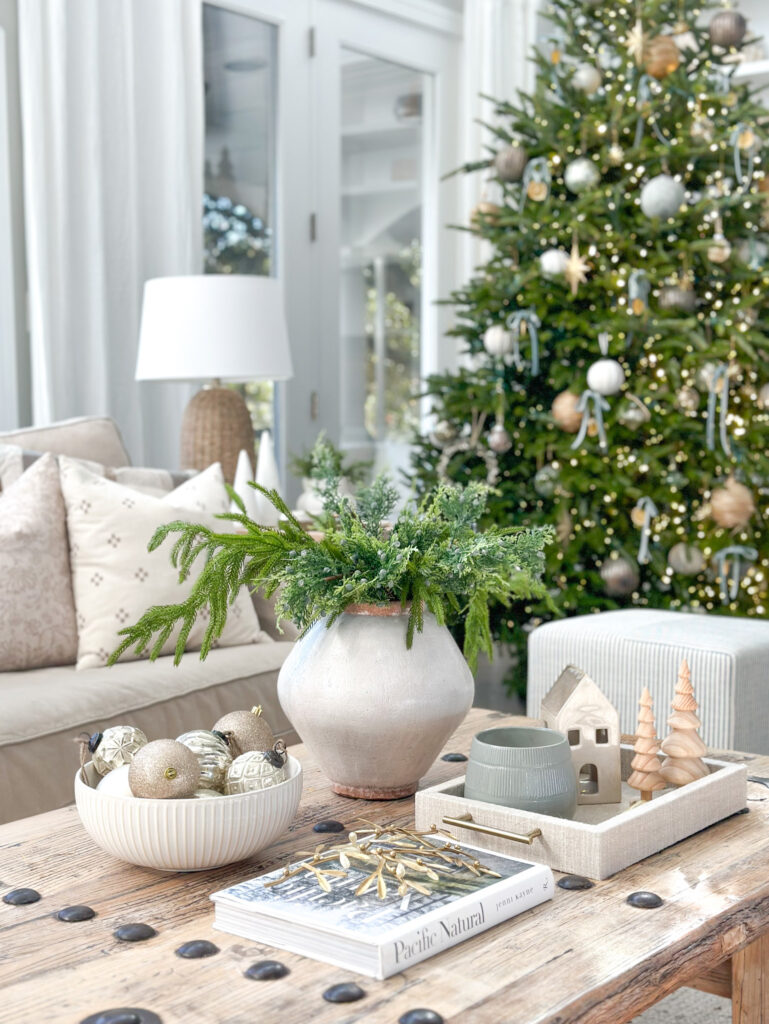 Creating a blue themed Christmas tree really may mean simply adding a couple of elements to what you already have. Blue may not be a traditional Christmas color but it is a great way to bring in a more coastal vibe to your holiday decor. By using classic shapes and neutral colors with the blue Christmas tree pieces, you can create a timeless look that you can easily add to for an updated feel each year.
Never miss a thing!
No pressure! you can cancel anytime