Holiday Table in Neutral and Blue
The dining table takes center stage this time of year with all the dinner parties and gatherings that bring people together to celebrate. Holidays that are coming up like Thanksgiving, Christmas & New Year's, create a lot of opportunities to gather around the table. It's the perfect excuse to create a moment in your home that reflects the magic of the season. For a coastal-style home, a holiday table in neutral and blue is the perfect complement to coastal holiday decor. Here's how to make the look happen!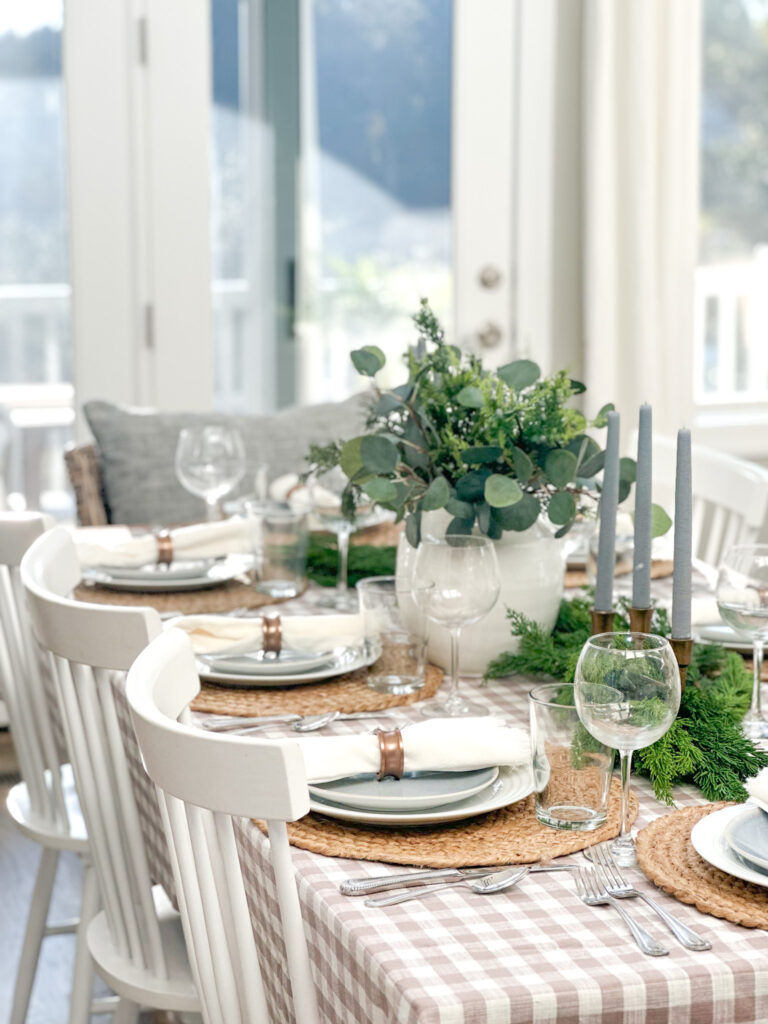 Celebrate the Holiday Season Around the Table
With family and friends gathered around the table this holiday season, dining over the holidays is the perfect opportunity for an elevated experience compared to everyday dining. Your table can mimic the cozy feeling and add an extra touch as you celebrate the holidays. With the right decor and place settings, the holiday table can feel special and extra magical. And with just a little planning, your holiday table can pair perfectly with your holiday and your coastal decor. Utilizing some simple strategies, you can create a holiday table that complements a coastal style home.
Creating a Coastal Holiday Table
A coastal style home feels light and airy. The pieces you choose for your holiday table can carry this feel as well. From tablecloths and serving pieces to centerpiece options, here are some go-tos to help you prep your dream tablescape for this holiday season.
Start With a Neutral Base
A neutral base creates the most versatile foundation for your holiday table. Choose a tablecloth in a neutral color to begin, or you can also choose to forego the tablecloth altogether to show the beauty of your wood or painted table. A nice runner can also help begin the base, whether or not you choose to use a tablecloth.
Next, add textured placements or even woven chargers to enhance the coastal-inspired look. You can find many different woven looks in rattan and other natural materials. These are perfect for a subtle coastal feel for your table.
Consider Your Color Scheme as You Plan Out the Complete Look
Neutral and blue work perfectly for a coastal-style holiday table. These two colors paired together reflect the surrounding of the coast and can feel light and airy when you add pops of white.
If you don't want to go with blues, an all-neutral color scheme with pops of green is another great option. This is also great if you have other greenery throughout your home in the winter season.
Add Your Place Settings
Plates
Firstly, start with a simple plate layer for your place settings. White is a classic option and typically matches anything and everything. You can also use stoneware if you are looking for a more casual feel. Adding in a salad plate in a different color can add more interest to your table. Using two plates creates a more formal dining experience, and can help create an overall elevated look.
Silverware
Next, you will want to choose complementing place settings. Shiny silver serving utensils can be a nice contrast if your table has mostly gold accents and you want to create a mixed-metal look. Or, matte gold can be a great option if you are hoping to warm up the space. Gold with gold always creates an instantly elevated look. Another perfect coastal-style option for silverware would be a set with a woven or bamboo detail.
Drinkware
For drinkware, you should include both a water glass and a wine glass if you are planning to keep wine at the table. You can keep both of these piece options simple, or find pieces with stripes or patterns of gold for an extra touch. For an extra elevated look, if you are choosing to serve wine, add a wine chiller or a decanter.
Napkins & Napkin Rings
Another fun layer for your holiday table is napkins. Using washable linens rather than paper creates an elevated look during holidays. There are so many options as far as color and texture go. Firstly, choose a complementary color to your current decor. If you choose a napkin with a print, make sure it does not compete with your tablecloth or runner. Adding rings around napkins is a pretty extra touch. You can find simple options in gold that can enhance your look. Another great option for napkin rings in the coastal style home is a rattan piece to add extra texture.
Holiday Table Centerpiece
The center of the table presents many options to show off your creativity. A pretty garland can make for the perfect table runner. The garland options available these days are so realistic which enhances the look. Cozy candles with gold candlestick holders are also the perfect option for a holiday table. Or, you can choose a simple vase and fill it with faux or fresh greenery. Some great options for a simple yet elegant centerpiece would be pine or juniper. You can even layer in some eucalyptus for that coastal feel.
Holiday Table Looks
Here are some curated combinations to help you visualize the possibilities for creating a beautiful coastal-inspired neutral and blue holiday table. These looks are simple yet elegant for a classic and modern feel for your holiday table this season.

Benefits of A Neutral Foundation
While you want some variety for each holiday, creating a tablescape with a good foundation can help make the transition for each of the holidays easier. Stick with neutrals for your base so that it is simple to add different components for each holiday to create an easy update as well as a new and fresh look.
For Thanksgiving, think of warmer tones. Little details like leaf napkin rings or fall-inspired place card holders can help with that cozy feel. There are many ways to combine fall and coastal decor, and the Thanksgiving table is a great opportunity to create this look.
To create a Christmas table setting, you can add items like battery-powered twinkle lights or decorative objects such as ceramic Christmas trees. You can even create an ornament garland for the Christmas centerpiece. For Christmas, you can also stick with pine for your centerpiece and add other elements before or after this holiday.
For New Year, add in more wintry elements like pine cones in place of Christmas ornaments. Keeping your holiday table decor simple allows the flexibility to switch it up throughout all of the holidays, or you can keep it the same and it still fits!
This season is truly the most wonderful time of the year to enjoy your family and friends around the holiday table all season long. Follow along on Instagram to see all the ways to combine coastal and holiday decor.